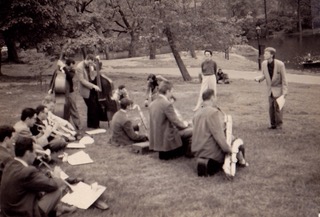 Content count

1,468

Joined

Last visited
sgcim replied to mjzee's topic in Artists

sgcim replied to EKE BBB's topic in Artists

RIP, Bucky. I met him at a club he was playing at where I agreed to pick up my 1935 D'Angelico guitar, which was getting a new bridge made by a well-known luthier. Before I got there, the luthier let Bucky play my guitar, and he said Bucky got such a strong sound out of the acoustic archtop that he could hear Bucky playing it, even when he was in the men's room! Bucky also had a 1935 D'Angelico that was displayed in the recent Metropolitan Museum of Art exhibition of the work by D'Angelico and D'Aquisto, celebrating the work of Italian-American immigrant luthiers in NY. We talked about our guitars for a while, and he reprimanded me for having lighter gauge strings on my guitar than he felt I should have, and I felt like my Italian-American father was yelling at me, whom I had inherited the guitar from. I told him about the many times I saw him and George Barnes playing live all over the place in NYC when I was a kid, and he told me that George Barnes gave him his 1935 D'A when Barnes started using a different guitar.

sgcim replied to soulpope's topic in Artists

Terrible news, great trumpet player. RIP.

There's a ton of brethren jazz guitarists hungering for that PD/EB Mosaic set, so if this is a limited series, it will probably go quick. EB has assumed Sainthood status since his death, and PD is equally revered (although he wasn't in his prime like EB was; I don't know if illness played a role). Since learning about Don Thompson's habit of recording many of his gigs, I've been running into other examples of 'live' recordings that were done at some gigs that had nothing to do with record companies. At Birdland, someone rented out the office space directly above the stage, and drilled a hole in the floor there. Then, they would dangle a mic that would record whomever was playing. We have them to thank for the 1948-1952 Stan Getz.Jimmy Raney 'Live at Birdland' sides. A lot of the Tubby Hayes 'live' recordings were done at Ronnie Scott's started by the omnipresent Tubbs fan, Les Tompkins, in 1963. When Tompkins asked Ronnie Scott if it was okay with him, Scott replied, "Well, look- you've got the machine right there. Bring it down anytime you like, and we'll see what you can get." It makes you wonder if there are any treasures recorded at Birdland and Ronnie Scott's that were never made into vinyl or disc that are part of some jazz 'black market' in tapes being sold on the web somewhere...

I'm reading "The Long Shadow of the Little Giant", the Tubby Hayes bio by Simon Spillett, and I'm up to the Jazz Couriers group with Tubbs and Ronnie Scott. There are a couple of good Ronnie Scott lines in there: They were touring with the Dave Brubeck Quartet with Paul Desmond, and Ronnie used to crack Desmond up every time they ordered food at the grungy Great Transit British Cafe by inquiring, "Excuse me, can I see the wine list?" Scott would inquire in one dismal roadside establishment after another! On their live albums, they would keep Scott's announcements of the songs they would be performing, such as, "And now, from an LP which you may have seen in the shops, titled 'Elvis Presley Sings Thelonious Monk...'

sgcim replied to ghost of miles's topic in Artists

https://crooksandliars.com/gordonskene/newstalgia-downbeat-tal-farlow-and-mar

Yeah, he should've stuck to writing his theory books.

Yeah, that was put together for a club in NYC called The Composer. I mentioned it to a piano player I used to work with, and he said that he met his wife for the first time when he was seeing the Farlow trio live at that club. Somewhere online, there's a recording of that great trio live at the Composer, playing a show for some War Bonds fund raiser, or something like that. I think Marian McPartland was also playing there with her trio.

Thanks for posting that. You get to hear John Simon really burning on the fast section of "Family Dog", accompanied by Bill Crow on bass. You also get to hear some nice blowing on Simon's "Jack" by studio keyboard player Paul Griffin in this extended version. The Band accompanies Tiny Tim(!) in their last appearance as The Hawks.

They didn't record in Woodstock, they only rehearsed there, in the garage of Big Pink. They recorded the 'demo tracks' (which they wound up using on the Big Pink LP) in Columbia's Studio A (Simon's fave studio), with few or no baffles, in real time, with the Band playing together at the same time, because The Band never made any mistakes. After they got a record deal, they finished up the rest of the album in Capitol Studios in LA, in the same manner. Simon probably did get a flat, dry sound, because he always went for the 'pure' sound of the instruments/voices, without too much electronic embellishment. He didn't think of The Band as a rock & roll band. He felt they were a compendium of all the styles of early American music,

Simon raves about those 45s he made with Bonnie Herman, calling her "a singer with a beautiful sound and absolutely perfect intonation". Simon has perfect pitch.

It's the same problem whenever two players of the same instrument record or play together. You tend to compare them, because they immediately follow each other's solos. Compared to Costa, Mehegan swings like a rusty gate. It wouldn't be as noticeable if he were just playing in a trio without another pianist, but on this album, he sounds pretty sad compared to Costa, a very swinging, percussive, exciting pianist.

Yeah, he met Grossman through Peter Yarrow, who was referred to Simon by Ed Kleban, a colleague of Simon's at Columbia. Yarrow was looking for someone to write the music for a film he was working on called, "You Are What You Eat". Simon wrote that great song, "My Name is Jack" for the film. Yarrow recommended Simon to Grossman after that to produce Big Brother and the Holding Company's first album, "Cheap Thrills" featuring you-know-who on vocals. At their first meeting, Grossman ended it by saying to Simon, "You scratch my back, and I'll scratch yours." If by the Bearsville crowd, you mean The Band, Simon worked with Peter Yarrow on the film in Woodstock, and that's how he got involved with The Band. Robbie Robertson called him up and told him that Dylan's backup band needed a producer for a record they were working on. The Band seems to be the most meaningful group he ever worked with, and he spends many chapters describing their work together. He said that he learned how to really play blues piano when he worked with Taj.

This is an autobiography of the record producer/pianist/arranger/composer/vocalist John Simon (as he says, 'NOT the critic'). Simon came from an intensely musical family, and studied classical piano at an early age. He got sick of Bach and Beethoven in his teens, and became a jazz fanatic. In high school he wrote two full musicals, which helped get him accepted into Princeton, where he majored in music. At Princeton, he spent most of his time playing jazz and writing musicals,three of which were performed by the Triangle Club of Princeton. His jazz combo entered the First Georgetown University Intercollegiate Jazz Festival Competition, and they were selected as finalists.The two judges were Dave Brubeck and Paul Desmond. They wound up losing to the Charles Bell Contemporary Jazz Quartet, and the North Texas State Lab Band, "from a jazz program in which, if you lagged behind, you were tied to a longhorn steer and dragged from Lubbock to San Antonio", to quote the very witty Simon. Chuck Mangione's band also lost, so he didn't feel too bad! Simon studied composition at Princeton with Milton Babbitt, who had been a full professor of Mathematics but, when many in the music dept. got drafted one year, he filled the gap and became a professor of music.As a composer, "Babbitt was one of the forerunners of Serial Music, in which notes were chosen for their mathematical relationships with each other, rather than whether or not they simply sounded good", Simon's very apt description of Schoenberg's method of twelve-tone composition.... Simon graduated from Princeton in 1963, when job recruiters drafted him to be a trainee in NYC at Columbia Records. Simon has a lot of interesting things to say about the people at Columbia Records, which had yet to be turned into a corporation after it was ruined/bought by CBS. His very first recording session production was for the soundtrack for a TV series called "The Reporter". The composer was Kenyon Hopkins, and the musicians were his jazz idols; Zoot Sims, Ernie Royal, Clark Terry, Phil Woods, and Urbie Green...He "was in heaven". He produced his first hit record, "Red Rubber Ball" co-written by Paul Simon, and performed by The Cyrkle, and Columbia moved him into the Pop Music dept. From there, Simon went on to produce records for rock people like: Simon and Garfunkel, Janis Joplin, Leonard Cohen, The Band, Blood Sweat and Tears (the reason I became interested in him was for his genius string quartet arrangement of "The Modern Adventures of Plato, Diogenes, and Freud, on BS&T's first album), and many other rock people, but he kept in touch with his jazz roots by producing records by Gil Evans, Charles Lloyd, David Sanborn, Michael Franks, Jackie and Roy, and Bireli LaGrene. When Disco, Punk and Metal became popular in the 80s, Simon lost interest in the pop/rock field, and pursued his own musical interests. He is proud of the fact that in all of the records he produced, he never once made use of the pitch-correcting machine, the click track or the drum machine, preferring to work with musicians who had talent, rather than what we have today... Simon's writing is witty, without getting 'precious' and I recommend this book to anyone who is interested in such things...