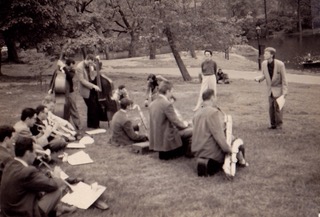 Content count

2,055

Joined

Last visited
About sgcim
Rank

Master of the Groove!

sgcim replied to Teasing the Korean's topic in Artists

They're just envious of horn and string players.Sorry piano boys, you can't have everything.

I know this is nothing new, but I'm reading "About Time", a recent bio of Stevie Winwood, and the author, Chuck Sullivan, is an accomplished record producer, recording engineer , and drummer. He has a large section on SW's years as a session player, and he raves about the creative, spontaneous things SW did as a sideman with Jimi Hendrix, Joe Cocker, Leon Russell,B.B. King, Muddy Waters, Lou Reed, Robert Palmer, etc., back in 1968-74., when recording technology was still very basic. "Today's recording tools, which basically allow for a cut and paste approach to forge a perfect pitch-corrected sound, can actually discourage imagination and inspiration.....Even the most basic home studio can now cut and paste audio, as well as pitch-correct vocals, resulting in 'perfect' albums that often have no individuality." I think that about says it all.... .

Before the pandemic, the "hipper than thou" made a decree that you can't play jazz standards in NYC clubs anymore. All you'd hear by the usual suspects were these modal originals with abstract, unmemorable attempts at melodies, with stacks of fourths as harmony, unrelated to any discernible home key. The decree stated that if you did play standards, they would have to be in complex time signatures like 11/8, 17/4, etc... A friend of mine played me a stream from Small's with a pianist playing "My Romance" as a ballad in 7/4. I asked him if he could count it out, and he said no. I asked him if he could feel the ONE, and he said no. I told him I thought it sucked, and asked him what he liked about it. He said it was different. Next week it would be something different. They're taking jazz, a difficult type of music for non-jazz musicians to listen to in the first place, and making it even more difficult to listen to, all because of this endless fetish they have with 'originality'. I can understand if they write contrafacts of a standard to avoid paying for the rights to play on the changes to a song they like, but they're too hip to do that now....

Snidero was being interviewed on one of the jazz shows on WKCR. Search their archives.

I made a proclamation on the melodic genius of "Joy Spring" on another forum, and was amazed to get a reply from a young self-proclaimed 'genius' from the UK that it was quite ordinary. The young 'artiste' released his first album recently, and I wasn't surprised to hear the record was the aural equivalent of a vomitorium.

That's probably no coincidence. Graettinger lived for a few years with the infamous Gail Madden, who along with Gerry Mulligan, were Ayn Rand fanatics. They would act out entire scenes from The Fountainhead during their month-long sojourn from NY to California, where Madden introduced Graettinger to Mulligan.

Yeah, in his autobiography,, Harvey Brooks said Miles told him to show up for three days at the studio, and they jammed for three days without any music, and the next thing you know, Teo edited it into Bitches Brew. HB said although he's listed on something like five MD albums, the only time he played with MD, Zawinul,etc... were just those three days. Then you have Jim Snidero saying in an interview on WKCR that the secret to jazz is that based on his study of alternate takes of Miles Davis' Coltrane period Quintet/Sextet albums, none of that stuff was improvised. Every take had the same solos (at least by Trane and Davis) that appeared on the records. Snidero claims that this is true of all the jazz records he and his contemporaries make today. No improvisation...

I just heard this said in an interview with a well known musician, who has won several DB Polls. In fact, he said it several times during the interview, but the 'genius ' interviewer didn't ask him to explain what he meant by it. What's your interpretation of his comment?

Gene Puerling! I should be thrown in jail for all the ideas I've stolen from that genius!

I have a record by a classical music saxophone concerto (20th century) played by a sax player named Walter Benton. I wonder if he was the same guy?

That's probably Charles Stepney's arr. of that old gospel tune. Beautiful changes. He gets to play that wild synth solo on the first one! We should've done that gospel tune back when I was teaching, but I didn't know it. We played some of their other stuff, and the kids played the schist out of it. One of the bass players (they all played bass and drums) formed a EW&F Tribute band called Hearts Afire. Great stuff, thanks! The drummer in the Association Ted Beuchel plays great on Snow Queen!!!! There are a bunch of different versions. Jim Gordon really lays it down on the version by The City, Carole King's first band. The rest of the album sucks. Roger Nichols does a muzak version of it, and a few other bands do mediocre versions of it. I like The Association's and The City's versions, but BS&T do more than I could do with it.When they lost that psycho DCT, that was the end of the hits.

Great stuff as usual, Dave!

One would think so, but I mentioned this song to my two older Baby Boomer sisters yesterday on the tenth anniversary of our mother's death, and neither of them ever heard of it, and they were huge CK fans. For this big band project, I only chose songs that I loved, songs that were not played to death,, or that I had something very distinct to say in them, and had an architecture that enabled jazz musicians to blow on them. This meant in some cases I had to add a tempo change, a meter change, a harmonic change, a groove change or a completely new section that would fit in with the song that would enable said blowing to take place. During the course of the pandemic, I've now written 42 jazz big band arrangements that fit these criteria. Nine of them are originals, and the rest are songs written by musicians as diverse as: The Association George Russell King Crimson David raksin John Williams Cal Massey Nick Drake Alex North Tommy Wolfe If An obscure 60s rock band Traffic Nilsson Another 60s rock band The rest of them are standards that I have added something interesting to i.e. I added part of a Howard Hanson symphony to one song! My audience is whoever digs jazz and good tunes by the aforementioned artists. I played some of them at a concert with my quartet that I received a 5K grant for from NYC, and the audience (of normal people as far as I could tell) enthusiastically applauded after each tune. I've also had some of them played by the two big bands I play with, and had a good reaction from all but one trumpet player, who said, "Can we play something with a melody?". and one bratty sax player who completely messed up his solo on the same tune, and said. "It's too dissonant". It should be pointed out that of the eight rock bands' tunes only two of them have rock beats, and they were all written by someone that had some serious jazz background.

Turned to Carole King. Was tempted to do "Snow Queen", but BS&T covered that a long time ago. CK did a swinging version of it when she was in a band called The City. Jim Gordon was a great jazz drummer; he really grooves on it. He even made his own LP back in 1969 when they were calling him 'Jimmy' Gordon.."Hog Fat"