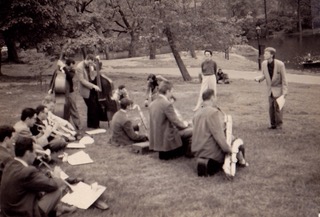 Content count

1,419

Joined

Last visited
A friend of mine worked with Moody for several years in Vegas, and he said if you ever wanted to get a rise out of him, all you had to do was mention Ornette's name. he'd get up and preach about what a jive-ass he thought Ornette was!

That was the point, they didn't take it anywhere, it stayed on the page. We all thought it was a fine album at the time, but he was so bugged with it, according to a sax player I knew who was studying with him, he stayed with Gilmore and Goodwin for more than 30 years. He had gotten a taste of the freedom of playing with the ERM, and he had to get it back. When you compare it to the Goodwin/Gilmore/ Melillo/Galper (and Leahey) groups, you know what he's talking about. Charlap completely destroyed that band on that awful Hollywood, Love Songs POS. album.

Phil Woods never had much luck on the West Coast. He refused to play flute, so he couldn't get studio work. His attempt to go electronic earlier on Chromatic Banana was an abortion, IMHO, so I never checked out the Pete Robinson album. He had just come back from Europe, which went pretty well for him, and he thought the rep he had from The European Rhythm Machine would propel a solo carrer for him, but it didn't work out like that for him. His big break came when he was staying with Jerry Dodgion in NYC, and Michel Legrand called Dodgion for a gig, and Dodgion was on the road, so Phil took the call and talked his way into the gig. Legrand was knocked out by Phil's playing (he was a better improviser than Dodgion), and the albums and concerts he did with Legrand put his name in front of the public, and he was finally able to launch a solo career in the US. His Musique du bois album in Phil's words, 'never got off the page', so he formed his own band with Goodwin, Gilmore and Melillo, and toured relentlessly,.Melillo could take things pretty out, so I don't think the characterization of the music his quartet played in the 70s as only 'bebop' is correct at all. When we saw them at the short revival of The Half Note in NY, Melillo took things so out, tempo and tonality disappeared so completely at one point, that there was a long moment of silence, before they started playing the tune again!

I used to go see him after gigs in Manhattan back in the 80s, when he was playing with the Joe Puma Trio at Gregory's on the upper east side. They had that steady gig for many years with Frank Luther on bass. Funny stuff used to happen every time i went in there. One time, I was talking to a young Japanese woman, who was a reporter for some Japanese magazine. She said she was covering new music in the US, and was wondering why there were so few people in the tiny club. After I finished laughing my head off at what she said, I told her that young people don't give a shit about jazz, and to go downtown to Danceateria or CGBGs to see what young people were really into... Another time, Hod was just back from jogging, and he was bragging to a young woman about how far he ran, and was trying to pick her up. When he asked her for her phone number, she put him down so bad, I can still see the look of amazement on his face! Joe Puma would always be a pisser to talk to, with some great stories about Dick Garcia and others. They recorded two fine albums, live at Gregory's; "Shining Hour", with Red Mitchell on bass, and an album with the boss' chick, the vocalist Alicia Sherman, which is only available on vinyl. When I found out Hod had passed, I immediately bought the short autobiography he wrote, "Have Piano...Will Swing!" Stories about the Jazz Life. It's got a great discography, and some cool stories from Hod's life. Unlike most players in NY, Hod was a down-to-earth, fully formed person, not some egotistic half- formed cretin.

sgcim replied to Daniel A's topic in Artists

I saw his album in record stores when I was a kid, The Craig Hundley Trio. I always wondered what happened to him. Now I know. He changed his name. Thanks.

A quick search on the Columbia U library website reveals: Duke Ellington- 100 books on the subject of, Miles Davis- 91 books on the subject of, Louis Armstrong- 88 books on the subject of,

After a takeover of WBAI 99.5 FM, a NY, Pacifica, listener supported (absolutely NO corporate support, as opposed to the BS NPR NY radio station WNYC, which has MASSIVE corporate support, including Facebook!) radio station in November by two renegade Pacifica board members, WBAI returned to the air in December. They built a new studio in Brooklyn, which is large enough to feature live music performances, and this afternoon, Leonard Lopate had a live jazz concert by The Uptown Big Band, led by yet another Marsalis brother, Trombonist Defaiyo Marsalis. They're composed of Southern musicians, mainly from New Orleans, and played a swinging, funk influenced set of Defaiyo's tunes, with good solos by most band members. It was a breath of fresh air compared to most of the jazz heard in NYC nowadays.

Wow, she really got jazzy and funky on that one! Nice guitar by John Tropea and great bass playing by Richard Davis.

Hey man, don't get me into one of those Organissimo Jimmy Smith fights! I heard they can get pretty violent, and I'm not gettin' any younger!

To tell you the truth, I didn't listen much to her later stuff. I just remembered that it didn't sound like her early stuff, which I loved, so I didn't pursue it. I remember when I did the gigs with her first producer, he didn't think too highly of her later stuff, and claimed, "I got all her good stuff!". I'll have to listen to her later stuff sometime.

Watered down? WTF? Sounds like classic JS and ON (using his hippest chords) playing a classic Elmer Bernstein movie theme to me. Sounds like something Lester Bangs would say...

Definitely read the biography! There's one hilarious exchange between her and her producer (HB) where he asks her if she's been cutting school to come to the studio sessions!! She sounded great on "Poverty Train", but the band (supposedly the Wrecking Crew!) had trouble following her, just like the NY studio musicians did on her first album. You can really hear it at the end, when they just keep holding that chord under her; they sound like they don't know what the hell to play (I've been there!). She needed her own band with a lot of rehearsal, because she had this habit of doing tons of tempo changes, and unless it's conducted or rehearsed a lot, I'd love to hear the full version of "Wedding Bell Blues", although it sounds like the band was playing it too slow.

I don't know if you read her biography, but the producer of her first album (HB) describes the train wreck that resulted when they let LN play the piano with the studio musicians on the first try at recording it. She would rush the tempos, then all of a sudden slow down, then stop, etc... It was literally impossible for the best studio musicians in NY to follow her. It was a complete disaster, and she wound up breaking into tears trying to get through any of the songs. HB decided the only way they were going to be able to record the album was if she didn't play piano and just sang, so they hired a studio pianist to come in and play for her, and she just sang her songs, She was extremely upset during the whole experience. She was still in HS when she recorded it, so she didn't have much experience playing with other musicians.She didn't get a good reaction when she performed at the Monterey Pop Festival on her own, so she probably needed the help of a more experienced musician until she got a little older. As far as the subject of comparing her versions of her songs to other performers' versions, I've learned to never bring that up with Laura Nyro fanatics. One time my brother-in-law's sister had an argument over that with her husband, and I didn't think their marriage was going to survive their differences on the subject. I will say that Streisand's version of "Stony End" nauseates me, and that David Clayton Thomas' (BS&T) versions of "AWID" and "He's a Runner" are great, as are The Fifth Dimension's versions of "SSP and "WBB, but I can't listen to anything by Three Dog Night.

Growing up, my two sisters and I had a kind of peripheral relation to Laura Nyro's extended family. Her cousins went to the same schools we went to, and my sister was friends with one of them. Their father owned a candy store in our neighborhood, and my sister was accused of 'borrowing' some candy from the store without paying for it in JHS! My sisters loved her music, and went to all of her concerts in NYC. Then I played on a record with Nyro's bass player, Sunshine. My older sister and her husband were selling their house in VT, and Laura Nyro came over to look at it. Then they moved to MA, and Nyro's manager rented a room in their new house. I did some gigs with Michael Amanti, and the pianist/MD was the producer of Nyro's first album. I hung with him, and he told me stories about LN, until he got sick of me asking questions about her, and had to excuse himself! He said she wrote all her great songs for her first two LPs, and never wrote anything as good afterwards. He made a ton of money off those two albums. I played in a band with Aaron Sachs, a well-known sax/clarinet player, and it turned out that he lived in the apt next door to the Nyro family in The Bronx, and his son (who wrote the song "I Love Rock & Roll, Put Another Nickel In the Juke Box...) was close friends with LN. AS was good friends with Nyro's father who was a trumpet player.

sgcim replied to Teasing the Korean's topic in Artists

No way. You can give Nash all the awards you want to, but that won't give him Woods' natural embouchure. The Hustler ain't the Hustler without that Woods sound. They both played with Charlie Shoemake, and as good as Nash is, he's no replacement for Woods.