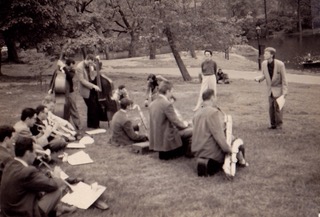 Content count

1,375

Joined

Last visited
There better be a lot of Ed Bickert on there!

Wow! What a great thing to do for your father! Putting all that together for him is something you should be very proud of!

sgcim replied to Teasing the Korean's topic in Artists

Yeah, in Jazz From Detroit, Mark Stryker tells the story about how Hanna used to work on a piece at the VV on his improvised solo features. Then one day, Thad hands out a chart called "A Child is Born", and Hanna asks, "Thad, isn't that my tune?"" Thad said."No, it's mine." in his interview for the book, Hanna seems to have let it go, equating it with how Ellington used to write tunes based on what his sidemen used to improvise in their solos. Hanna said, "I never faulted Thad for that because he was just doing what bandleaders did. if you threw an idea out there, he;d take it and write it down". Hanna had recorded it as a solo piece on an aborted Coleman Hawkins session, two years before the Jones-Lewis Band recorded it in 1970, Bill Evans experienced this with Miles Davis on his tune "Blue in Green", and Diz tried it with Charles Fox, when he told Fox that he wanted credit for a suite Fox composed when Fox was a sideman in Diz' Quintet. Fox quit the band.

sgcim replied to Teasing the Korean's topic in Artists

Nice tune by your Pops! That 'tradition' continued long after that. If you read Mark Stryker's Jazz From Detroit", you won't believe who really wrote "A Child is Born". And no, it wasn't Thad Jones...

I agree that it's not as comprehensive as something like Schuller's Swing Era tome, but he does make clear that it's part of a series of books that intends to include at least two or three other areas (modal and other influences, Free Jazz), and his disregard for Cannonball's 'Soul Jazz' period in the first of the series, here becomes adoration, because it's understood in the context of hard bop (first group of Rosenthal's groups of musicians.). Maybe his lack of first hand sources stemmed from his 'difficult' interview with Jimmy Smith, where Smith refused to talk about the past, angrily insisting that the present was all that mattered. In any event, I agree that the title was misleading,and perhaps he should have called it, "Vol. Two: Musicians Infuenced and influencing the hard Bop Style". s

He includes Wardell Gray on the chapter with Dexter Gordon because of the recording of "The Chase" in 1947, which fits the first group of musicians that Rosenthal says qualifies for inclusion in the hard bop nomenclature. The chapter contains a lot more on Gordon than Gray. He mention McLean in the introduction, saying that although he figures frequently in the course of the book, and was a prominent contributor to the emergence of hard bop, he has deliberately chosen to withhold his discussion of JM's work, because he wants to save JM for the next book in his series, which will look look at the extensions of bop in the early and mid 60s, in modal and other directions. He says, "McLean seems to me an excellent bridge into that development, and also made what I consider to be the most exciting and innovative music of his career in those years. Accordingly, I have reserved any detailed examination of his music for that volume".

He uses Rosenthal's four groups of musicians that qualify as Hard Bop.

very sad to hear this. He used a friend of mine as photographer on some albums. One time GT was stuck for a guitarist, and he asked my friend for a cat in Manhattan for a guitarist for a Ralph Lalamma session. That's how Peter Bernstein got his start.

They put words to Django? NO!!!!

That's a good point, KCR is playing a retrospective on Leo Parker now, and I' really digging it. Pat Patrick, Mulligan, Leo Parker, guys who didn't pay a million notes per second, and kept a lighter sound are okay with me. Even Pepper Adams can be a bit much, as mjzee mentioned above, when he's the only horn on the record. I've never heard Stitt play Bari. It's just the nature of the instrument. It's timbre can be unbearable in large, uninterrupted doses. They're all brilliant musicians, but timbre is an important consideration.

it's a tough instrument to listen to on a small group record where it's the only horn for an extended period of time. A friend gave me a CD like that, and after half an hour or so, I just couldn't take it anymore, and literally had to turn it off. Mulligan or Pepper Adams could pull it off, because of their sound and ideas, but other than them, the range and power of the horn can be too much, especially if the player is trying to see how many notes he can cram into a measure.

Cookin' (as you can see from my listing of the table of contents) includes many of the musicians the author left out in Giant Steps. How many books have chapters on Tina Brooks, Elmo Hope, Nat Adderly, Wardell Gray, Howard McGhee, Blue Mitchell, Booker Little, Booker Ervin, Johnny Griffin, and Sonny Clark?

Mathieson didn't write Trad Dads. Trad Dads was written by Duncan Heining, who is indeed British. "Cookin' was written by Mathieson, who is indeed Scottish. Cookin' was written as the second in a series about the period covered in Giant Steps, I haven't read Giant Steps.

I'm in the middle of a great book by Kenny Mathieson named "Cookin'- Hard Bob and Soul Jazz- 1954-1965", and he has a chapter on musicians of that period who have never had a full-length biography written about them, at the time of its writing, 2002. Since then, books have been written about many of these artists, but there's a chapter on Jimmy Smith, as well as:Art Blakey, Dexter Gordon/Wardell Gray, Horace Silver, The MJQ, Cannonball Adderly/Nat Adderly, Lee Morgan/Hank Mobley, Wes Montgomery, Kenny Dorham/Howard McGhee, Donald Byrd/Blue Mitchell/Booker Little, Sonny Stitt/Johnny Griiffin, James Moody/ Serge Chaloff/ Jimmy Heath, Lou donaldson/ Stanley Turrentine, Booker Ervin Tina Brooks/ Gigi Gryce, Sonny Clark/Elmo Hope/ Wynton Kelly, Kenny Burrell/Grant Green, The Jazztet. Anyone read this? I searched it here, and the only mention is by Brad, when he wanted to sell it eight years ago. I mentioned this in the Jimmy Smith thread, but would like some opinions on it, because the opinions on the book "Trad Dads, Dirty Boppers and Free Fusioneers" saved me a lot of time by warning me of the political BS the author throws into the last chapters!

sgcim replied to Guy Berger's topic in Artists

Every time I've heard Steve Lacy on soprano, he sounds flat- in a bad way. Every time I've heard Bobby Jaspar on flute, he sounds flat, in a good way. Dizzy sounded out of tune when I heard him live in the 70s. That's why he switched to using guitar in his small group stuff instead of piano. I loaned Frank Strozier's "Long Night" (one of my fave albums) to Joe Dixon (clarinet and sax player for Tommy Dorsey and Bunny Berrigan), and he raved about it, saying Strozier was 'Trane influenced. I loaned the same album to a younger sax player, and all he had to say was, "he plays out of tune".I've avoided that guy since then. Don Cherry-out of tune. Ornette on violin- OOT. Most guitarists sounded OOT before they invented the electronic tuners, except for Johnny Smith and Barry Galbraith. That's one of the reasons they were on so many albums in the 50s, and (in Smith's case) played in the NBC Orchestra. I used to work with George Barrow (the Bari sax player on "Blues and the Abstract Truth), and he told me that Eric Dolphy told him he played out of tune on the flute on purpose, because that's the way they play high-pitched wind instruments in Africa. I have to admit that I'd like to hear a hip band play some of Duke's more modern pieces. His old classics sound fine that way. Gunther Schuller said in his autobiography, that the bass violin is the most difficult instrument of them all to play perfectly in tune on, because the space between half tones is too large to always find the exact place where the note is perfectly in tune. A bass player I knew who studied at Julliard, told me that George Mraz was the only bass player who could consistently play in tune.