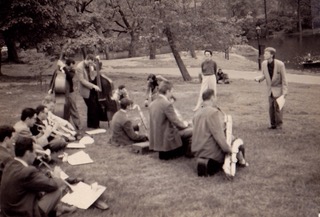 Content count

1,974

Joined

Last visited
That's great to hear. I got an email from the Queens Library recently saying that he's doing a concert with a young winds player that they're streaming. It really surprised me- in a good way.

It is an unwritten law of Organissimo with some people- any jazz musician who is white is suspect.

Yeah, we read the book in JHS English class, and then I saw the movie It was the life story of David Wilkerson, the priest who converted Nicky Cruz, the leader of a tough Puerto -Rican gang in Williamsburg called the Mau Maus.

sgcim replied to Hardbopjazz's topic in Artists

RIP, to one of the greatest actors who ever lived. I still cry at the end of, "To Sir With Love" when Lulu sings the title song. He was also great in "A Patch of Blue"...

Yeah, the film was a pisser. It was released on Something Weird in 2001, after being made in 1971 by Psychotronic "B" film director Willam Grefe` They didn't release it, because they didn't think it would be a commercial success. Grefe was was hired by the producer and flown to LA and then told by the producer, 'Oh, by the way, we don't have a screenplay(!). Every bit of dialogue was improvised, and real hippies, homeless alcoholics, Jesus Freaks, etc... just said whatever popped into their head. The plot is about a priest who's teaching at a private school who realizes he's not relating to his hippie students well enough, decides to drop in on a few of them who just cut his class to smoke pot. The students reward him for his concern by spiking his paper cup of coca cola with LSD. He has a trip which makes him lose his faith, and decides to leave the church. A big surprise was Mitch Mitchell (the drummer in The Jimi Hendrix Experience) singing a very hip bossa nova, and a nice jazzy/bluesy rock tune, both written by some guy named Abe Newman(?). BTW, Chubby was the bass player in Woody's band when they played The Ebony Concerto by Stravinsky. He has some great stories about it in this interview: https://www.youtube.com/watch?v=DlHE2RAvvPE

I tried to put this in miscellaneous music, but one of my old posts keeps coming up for some reason. Anyway, we were watching a 1971 B movie called "The Psychedelic Priest, and in the opening credits I see Chubby Jackson's name. I figure they're going to have a jazz scene in the movie with Chubby playing bass, so we watch the whole movie, and there's only rock music (featuring Mitch Mitchell singing some nice bossa rock tunes), and no Chubby Jackson playing bass. Then I do a little research on the flick, and find out there was no screenplay to the film; it was all improvised. I then watch an interview with Chubby Jackson, and realize he played a hippie hating guy in a bar scene that was so funny, the 'actors' sitting at the bar are breaking up ;laughing their heads off at Chubby's improvised hate speech about the hippie priest in the bar! It was supposed to be a serious scene, but since there weren't any actors in the movie except the two leads, the extras at the bar couldn't hold in their laughter, and they filmed it that way The scene occurs at about one hour and two minutes plus some odd seconds into the movie. I found it on you tube and tried to cue it up to the bar scene:

A friend of mine's got the SA show where he had Tal Farlow and Eddie Costa on it, but it's only audio- as most people know, they used to re-use the tapes of the shows, and they wiped out countless great performances by many of the greats- as shown with that great Miles Davis Quintet performance. For some reason, Costa only plays vibes on the SA show episode.

The Disco Sucks movement as I remember it was started by all the white hard rock fans, who felt as if their rock faves weren't being played on the air anymore, because everyone was jumping on the disco bandwagon (even Ethel Merman!) to sell records. TTK showed us Jack Jones disco foray. At least songs like "Last Dance" by Donna Summers had a harmonic structure that you could blow on, and use hip subs and funk hits on their arrangements. I used to look forward to playing tunes like that and Barry Manifold's "Could This Be the Magic". We had a drummer who was into Tony Williams, a Trane tenor player who was on the road with Gerry Mulligan and Lou Rawls, and a hip keyboard player who worked out his own ray Charles-type arrangements on all those disco tunes (he played left hand bass, so I had to follow him) so we turned them into hip jazz-fusion tunes, and the lead vocalist had big ears so he could sing right through all of the stuff we did behind him. "Hot Stuff" was another hip arr. we did, where we'd sub D13,Db13 C13 for the A chord. Like Holland and Dozier said, "We just put a bow tie on the funk". As Dan said, "It's the NYT that truly sucks". They revise history every freaking week. Unfortunately, all those talented songwriters like Dozier and Holland have now been replaced by techno-dweebs that couldn't write a decent song if a gun was pointed at their heads.

RIP. I always liked listening to him announce a game. Now we're left with Al Michaelsh. I don't know if heesh too cheap to get implantsh, or he getsh washted before a game, but shomeone should take the mic away from him if he hash to shay a word with the letter esh in it.

sgcim replied to Milestones's topic in Artists

During my two year Judee Sill obsession, I did a lot of research on her and her jazz pianist husband, Bob Harris. I wound up correcting a lot of the mistakes they made on both of them.

She's certainly come a long way from her days as a law professor and feminist theorist! https://en.wikipedia.org/wiki/Catharine_A._MacKinnon

I'm sure someone has mentioned this before, but is it a coincidence that Donald Byrd wrote a tune named "Omicron" that was recorded on a Paul Chambers LP as well as a Donald Byrd album? Even worse, could this have anything to do with Mark Stryker's accusations of Byrd selling out in the book he wrote about Jazz From Detroit"?

or maybe not; 90 replies for a kenny g thread and 13 replies for a new book on BE?

Yea, Joe still misses playing with Bill every day- even 40 years later!

Yeah, towards the end, Helen, Laurie and even Joe La Barbera would carry him to the stand, and then to the ER. There's ten pages on Ronnie Scott's, and actors such as Peter Sellers, Marty Feldman and John Mesurier attended, as well as numerous local musicians. During one of the gigs, a man who was a friend of Evans' came up to the stage and asked Evans if he could tape the gig with his reel-to-reel tape recorder. He promised Evans it would be just for his personal use, and never see the light of day. The recorder was set up on the table in front of the piano, and JLB thinks three mics were used; for the bass, drums and piano. JLB said the sound was decent, but unfortunately, the piano was out of tune. The fellow promised it was just for his personal use, and would never see light of day. It was later released on Dreyfus Jazz- "Letter To Evan" July 21, 1980. Another album was released on the same label, recorded August 2, 1980, called Turn Out The Stars.