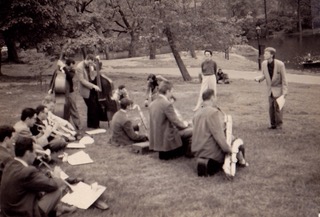 Content count

1,327

Joined

Last visited
I think it's pretty obvious that he purposely played out of the key, which Taylor had to give him. He just wasn't given a sheet.

sgcim replied to Larry Kart's topic in Artists

Great stuff, thanks for posting! I've written Jill a few times about when the book is going to come out, and she said that Phil wanted a good publishing house to put it out, but they were having problems finding one. She said she'd make it available one way or the other, but Ken's right; it deserves to be published in a hardbound edition! Given the fact that Phil never had to take on a college teaching gig (even as a part time instructor), there should be over 60 years of playing to cover.

He didn't know the changes.

"End of a Love Affair". Mike told him, "I want you to play as far away from the standard chords as you can". Ron goes on to say, 'Which I did-random notes, and flying all over the instrument. Among the mostly glowing reviews, not one critic said anything about the dodgy bass lines or harmonies. Is there no such thing as a mistake? I call this the Jackson Bollocks syndrome." [Extract from diary read during interview with Ron Rubin, October 2007]

It sounds like what Ron Rubin said when Mike Taylor wouldn't give him the changes to a tune they were recording, and told RR to play bass notes as far away from the right changes as possible. When no critics were able to recognize this in their reviews of the record, Rubin called it "The Jackson Bollocks Syndrome".

Although I loved this guy's version of Summertime many years ago, I never thought of checking his other stuff out. His soul stuff is kind of dull, the same I, ii iii progression over and over, but he recorded two LPs of standards, and IMHO he was better than any other soul singer at putting his own stamp on that type of music, with help from his arranger Phil Wright, and some great Chess sidemen.

They played a live recording of some tune based on the changes to Honeysuckle Rose by the Johnny Hodges Septet featuring John Coltrane. Hodges gave Trane a few choruses on it and Trane sounded like Trane. Future shock! Hodges had to fire Trane because he was nodding off on the stand. I don't see this recording on Discogs, but there's a half hour thing on You Tube

The author of a recent book on Johnny Hodges, Rabbit's Blues: The Life and Music of Johnny Hodges, Con Chapman, is being interviewed by Leonard Lopate on WBAI 99.5 FM. If you miss it, it will be available on Lopate's website's archives in a day or two.

It was the same thing with "Granadas" from the "Bill Evans Trio with Symphony Orchestra" album that Ogerman arranged. A friend of mine said he wanted to perform it with an orchestra, so I listened to it. It starts off with Evans playing it solo, then the orchestra plays a fast section, without Evans or the trio. Then the orchestra drops out, and the Evans trio improvises on Evans' changes, and they take it out. How is that playing a piece with an orchestra?

I can't tell you how many used jazz and classical CDs and records I've bought for prices like 50 cents apiece from libraries over the years, but they just stopped selling them a number of years ago.

After spending a lot of time transcribing one of his compositions/solos, I looked around on the web for an interview, or something that the great tenor sax player Dick Morrissey left us, but this is all I could come up with: "Charlie Parker is a genius. That's just the way it is!"

He used to play a lot at a local club, and build up to a frenzy on his solos to the point where he'd start stomping his feet so hard on the stand that he sounded louder than the drummer. He heard a tape some of us made with a bunch of my tunes on it, and said he wanted to play with me. I was kind of afraid of him, so I didn't commit myself to it.

sgcim replied to sgcim's topic in Artists

That was a pisser! Some great Harold Ashby takin' it out. It definitely had modal qualities, quartal harmony, static tonal center, etc..., but I was just wondering if he wrote another tune like African Flower that could also be adapted into a solo guitar arrangement. Chinoiserie would be hip for a quartet, though. It sounds like Gordon Goodwin was trying to write something like Chinoiserie on one of his more experimental charts that we play. It

Just from that Jimmy Dale session David Piltch put up on You Tube, you can hear that the playing and writing was state-of-the-art for its time. Even the audience seems like they're hip! It reminds me of the scene in Great Britain in the 50s. They even gave the great Lenny Breau his own TV show for a short time in Toronto. Thompson had a lot more visibility than Ed, because he toured with John Handy back in the 70s (including the well-known Monterey jazz festival performance), and then toured with George Shearing for a while. Ed barely left Toronto!

I've been fooling around with arranging "African Flower" for guitar, and was wondering if Duke wrote any other small group, modern, modal sounding pieces like this.Anyone know of any?