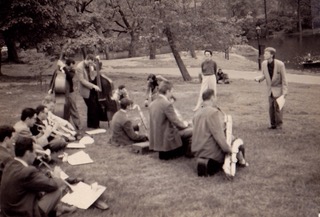 Content count

1,916

Joined

Last visited
sgcim replied to soulpope's topic in Artists

Oh my God! One of the best that ever lived. I asked a virtuoso bass player: Who's the bass player that plays most in tune (something impossible to achieve according to Gunther Schuller)? He said it was Mraz. That's why he's on so many records. Irreplaceable...RIP

Man, you're a very strong person to get through all of that, Allen. Let's hope the worst is over. Horrible to hear about Peplowski. I don't know anything about that disease; is the prognosis good? He's the nicest guy, and greatest clarinet/sax player around. I used to give him rides to the gigs that we did together, and felt like it was an honor to do so. One time he walked up to me and said, "I like the way you play". It took me a few hours to process that!

Some guy online is a fanatic about the tune, and wanted me to write and perform an arr. of it, but he didn't want to pay me! I wrote one anyway, and didn't send him anything. There's a hell of a lot of info about Mancini's career, and i should have listed that song from Mike Hammer as "Riff Blues" instead of Riff Jazz. There's some good stuff on movies where jazz groups improvised on films, rather than write a score, sometimes with disastrous results. He said Miles Davis' music to Elevator to the Gallows sounds great alone, but when they put it to the movie, the music was completely inappropriate to the film (except for one scene) .As usual, Miles lied about the whole situation, according to the French director. Dizzy Reece did the same thing on "Nowhere to Go", using Tubby Hayes in his group, but it was done with written cues, so it went much better.

I just got that Crime and Spy Jazz book from the library the other day, and it's really exhaustive. The guy writes about music from TV shows that were cancelled after their premiere, or a few shows, and there's not even a recording of them! I don't know how he got to hear them. He's musically illiterate; to describe the flute melody to the Mission Impossible theme, he uses the numbers 3-3-3-2! I guess that's supposed to mean a triplet and a half note? a four note motif? He's got good taste, though. He was able to weed through all the recordings of "Riff Jazz" from Mike Hammer, and pick out Tony Scott's superb version as the best one. He wanders from the Crime and Spy music sometimes. For example, he singles out Alex North's theme for A Streetcar Named Desire as a good jazz theme (which it is), but there's no crime or spying going on in Streetcar that I know of... He finds interviews with some obscure interviews with writers like Kenyon Hopkins, and George Duning that are really interesting. It's kind of annoying that he brings up Raksin (which he spelled Raskin(!)), and the theme from Laura in the intro, but then never mentions him again! What about that wild theme for "The Big Combo" (1955)? He does say that he knows some people are going to be mad at him for leaving out things like that, and advises people to tell him about it, suggesting, "That's what second editions are for". Anyway, there's a ton of stuff about Nelson Riddle, Billy May "Johnny" Williams (yes, that one), and many others, so check it out, if that's your bag.

I was wrong about the tune Arthur Lee recorded with Chico. It was "What's Your Story Morning Glory?" I think Ken reviewed that album: I always was fascinated with the observation that Frank Zappa made about the record business in the 60s, when you still had these 'old guys' running the labels, who were willing to take a chance on unusual music, just for the sake of, "hey, maybe it'll make a few bucks for us". As a result, you got people like Arthur Lee, whose music appealed to jazz musicians at the time, and who collaborated with Bryan McLean, a Musical Theater songwriter, whose "neighbor Frederick Loewe, of the songwriting team Lerner & Loewe, recognized him as a "melodic genius" at the age of three as he doodled on the piano. His early influences were Billie Holiday and George Gershwin" Another fascinating figure was the leader of the 60s band Circus Maximus, Bob Bruno, who is a multi-instrumentalist jazz musician and composer. He's still years ahead of his time. He'd be a fascinating person to interview for a radio program. https://www.soundclick.com/artist/default.cfm?bandID=837257&content=about

You've gotta LOVE the fact that he also included his nephew Arthur Lee of the rock band LOVE singing "Black Coffee" on one of his later albums. I think it was the last thing Lee recorded before he passed away from Leukemia. I got to see Lee perform the entirety of "Forever Changes" with excellent accompaniment by the band Baby Lemonade (plus trumpet and a string trio) before he passed. He rewarded Baby Lemonade by firing them for reasons that only a psycho like Lee could understand, as he did with everyone he ever worked with. I wonder if he showed his uncle Chico any respect?

That's a good one, but the pianist is a Bill Evans freak, and I think Jerome should only get one tune because of his snooty attitude towards jazz.

I played in my HS Concert Band (Clarinet), so I was able to convince the band teacher to let me into the HS Stage Band.on guitar. It was a lot of fun, because I was the only one who could improvise in the band, so I got all the solos and played fills instead of comping (like I should have been doing). The band teacher was also the stage band teacher, and he was in the Army with Tadd Dameron, and showed me one of TD's tunes in TD's handwriting, that he wrote out for my teacher, who played the trombone. We played all of the standard 'cornball' charts, and I learned a lot about what I didn't want to play and write. I wanted to be creative, man! I even wrote my own chart for Monk's "Well You Needn't" for the band that we played at a concert. I was completely self taught in arranging, and it was a major PITA to transpose for all the instruments. I liked the weirdest sounding things back then, and had a section where the rhythm section dropped out, and I wrote the entire section using only the two Whole Tone scales. The teacher annoyed the hell out of me by writing "Mysterious and FUNKY!" on the horn parts for that section.I felt like he was trying to cornball up my great work of art! A friend of mine, who also didn't know what the hell he was doing, played a clarinet solo on it, and tried to sound like our hero, Eric Dolphy, but it sounded horrible, and i felt like I was in some type of Twilight Zone nightmare. Of course, the audience gave me a standing ovation, but i just wanted to kill the clarinet player, and get out of there. Then I saw an ad in the newspaper that got me very excited. Joe Dixon was putting together a band of the best HS players from the County, and forming a Neophonic Big Band. I auditioned, and got in, and we played only charts by his friends,, Rod Leavitt, Manny Albam, Johnny Carisi, and others. I was in heaven.

sgcim replied to tranemonk's topic in Artists

RIP, His Newport/NY Jazz festival was the first jazz concert i ever went to. My parents took me to see Sarah Vaughn, Kenny Burrell and herbie mann at the Felt Forum. My crazy father thought Sarah Vaughn was soused during her performance, because of the way she spoke!

It's funny, but I find myself more interested in listening to Chico's Quintet of the 50s lately, than anything else. Thanks for your many years of covering IMHO the best jazz has to offer, Ken.

We already axed "Yesterdays" and ATTYA from that concert I told you about, maybe we'll get rid of Up With the Lark, too, and forget about JK entirely!

Kern had very strict training at what was called The New York College of Music (which later merged with NYU). His father didn't want him to become a musician, and made him work at his retail store when Jerome dropped out of high school.On his first day at work JK messed up and ordered 200 pianos for the store instead of what the order called for, which was TWO! His old man gave up on him after he found the store flooded with 200 pianos, and sent him to NYC of M. I was surprised to find out that Kern wrote "Up With the Lark", at a session we were having with the great bass player Frank Tate. We all thought it was a Bill Evans tune, but Frank started bellowing it out in an operatic voice, which is how it is performed in the show it came from. Bill Evans changed it so radically, that we were astounded at its original form.

When is WM gonna realize that we're living in the Post-Truth Era?

I was lucky to have a few screening resources before I plunked down my allowance for records. One was Ed Beach on WRVR. This was when NY was actually the center of culture, and not whatever the hell it is now. Ed Beach would play whom HE considered to be the most important musicians of jazz, and what HE considered to be their most important work, chronologically through their whole career, and you didn't argue with Ed Beach, because he was Ed Beach. So I'd tape his shows with our Sound On Sound reel-to reel recorder, and decide if I liked it. When some corporate idiots took over RVR, and started to tell him what to play, poof!- he was gone in a second. Then there was the library, which I had no use for whatsoever until I got interested in jazz. I don't know who got their records for them, but they seemed to have everything. Again, I hooked up the phono to the Sony, and taped whatever I liked. When those two sources were exhausted, I was driven to Times Square Store, the big dept. store on Lawnguyland. I remember buying all my Larry Coryell records there, until one day this weird looking guy with a long beard who worked there heard me and my friend talking about jazz, and he said "Psss...you're not gonna find anything good at this place, let me turn you on to this guy in Malverne who's got a basement full of the real sh-t." He turned out to be talking about the guy known as The Record Hunter, and we'd get our parents to drive us out there, and wait for us until we bought what we wanted. He was one of those guys that advertised in DB, saying he had RARE RECORDS, and sure enough, it was all down there in his basement. He had the Tal Farlow record that I had to have, but I couldn't believe it when he said it was $40!!!! This was the early 70s, and I was still in HS. He wouldn't take a penny less, no matter how much I begged him to go down. It wiped me out, but I bought it. I think he felt sorry for me then, because he got his son to tape all his TF records for $5 a reel of tape.