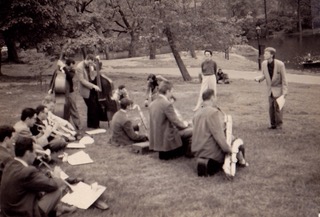 Content count

1,633

Joined

Last visited
He had cancer on and off for the last approximately ten years or so. Maybe it was on at that time.

I'll have my analysts working on it 24/7. Will get back to you after a peer-reviewed study.

sgcim replied to duaneiac's topic in Artists

The last gig I did before the pandemic was with a drummer who had recently come off the road with VM. I hope he's okay...

He came down on Phil Woods for some BS racial stuff, so his puppet , Wynton, thought he could get away with the same thing publicly, on a jazz cruise gig. What he didn't know was the daughter of Chan and Phil was aboard the cruise, and she gave the puppet a piece of her mind. Wynton was so embarrassed, he made a public apology to the people on the cruise. See "Cats of any Color" by Gene Lees for the full story.

sgcim replied to bebopbob's topic in Artists

Very sad to hear that. I was aware of him since he played with Tal Farlow on one of those comeback albums after his break. He even looked like Tal Farlow. He was from Australia. I played with him at a Jazz Festival Band that had Don Friedman and members of the VV band in it. Like Tal he was a nice, quiet person.

That must be that place on Main St. in Cold Spring Harbor/Huntington. It's like the Smalls of Lawnguyland; only a certain circle of players get to play there. I think you've got to show them some secret tattoo or something. Leo was one of those super talented guys who could be kind of moody. Send me a transcript of your conversation with him, and I'll have my team of analysts tell you what you said that rubbed him the wrong way.

Wow! Did you grow up on Lawnguyland? Leo taught HS there somewhere. I was thinking about him the other day. We had a session once, and Leo said he was glad I didn't comp 4/4 rhythm like Freddie Green. I told him I only comp like that on a big band when we're doing Basie-type charts. We were playing small group bop stuff. So then he told me about a small group gig he led in a big hotel in NYC, and the guitarist would comp 4/4 rhythm on every tune. Leo started yelling at the guy for playing that way, but the guy wouldn't stop. Leo let him have it again, and the guy packed up and walked off the gig! I asked Leo who it was, but he said he was a very heavy, well known guitarist, and he couldn't tell me, because the guy was still around. Now I'll never know.

I got it through my union, so maybe it's part of various union's plans.

The screenplay was written by the same guy who wrote the bio on Tubbs, "The Long Shadow of the Little Giant", Simon Spillet.

The same thing recently happened to me. The package was way delayed to begin with, and then they said it was shipped to the post office in the town I live in in NY. The next thing I knew it got shipped to Jersey City the same night that it was in my post office! I called them up and they said some BS about how it's got to follow an algorithm, and it would be sent BACK to my post office SIX days later! I told them it would take me an hour and change to drive to Jersey City, but they told me I had to wait for it to be delivered. I wouldn't mind if it were just some CD or something like that, but this was a medical package from Express Scripts. My union medical plan pushes ES for some reason, and who wants to go to a drug store in a pandemic when you can get it delivered to your home. This was the last straw, I'm never using ES again.

An older friend of mine has gotten so spooked by COVID-19, he called me up a few months ago to tell me he just made up his will to give me all of his vinyl collection. It's packed with original Blue Note records. Maybe they'll be worth something. I never would've believed it.

Serious teenage crush on her as a kid. I won't get graphic. Loved the Avengers theme by Laurie Johnson (a close friend of Bernard Herrmann, a serious Anglophile), and figured it out and played it on the guitar. Was annoyed at her replacement, Linda Thorson for a while, but got used to her after a while. Quirky stories by the prolific Brian Clements When they brought back the Avengers with Joanna Lumley, all that was left was the music score, which had an excellent polyrhythmic drummer playing on it.I don't know who it was, Randy Jones? DR was also in "The Hospital", written by Paddy Chayefsky, with Geo. C Scott, where she played the hippie daughter of an insane doctor, who murdered a bunch of patients in a NYC hospital. Then she played the daughter of Vincent Price in"Theater of Blood", a very witty horror flick where she helped her dad, VP, murder a bunch of theater critics, because they panned her father's performances in the theater. The murders were all taken from Skakespeare's plays. RIP, Mrs. Peel...

HeyJoeyousosmartwhownasecondworldwar?

I filled it out, and had to write-in Eddie Costa, because they left him out of their 'survey'. How dare they!

Al Kooper claims he got the melody for FT from a lick in a Barney Kessel guitar solo. He said it was an idea that BK played on the last chord of a tune. I could hear BK doing it on a minor 9th chord. I was pretty young when I first heard it on my sister's stereo, and it acted like a gateway drug to jazz (along with that CM song). I copied it, and taught it to my friends in my little kiddie rock band, and we'd jam on it for hours. The original studio version is pretty lame, solo-wise, so I think that's what AK meant when he made that vomit comment, but I think they realized how lame the flute solo was, and they did a live version that put the flute through an echoplex that made the flute solo sound much more effective. Shades of Don Ellis! That whole scene with Kooper, Katz and Colomby forming BS&T, and then Katz and Colomby forming a mutiny that led to Kooper quitting the band was something I was completely unaware of at the time, and a good resource on it is Steve Katz' autobiography, which presents the other side of the Kooper BS&T split. Kooper and Katz still hat each other's guts up to this very day!