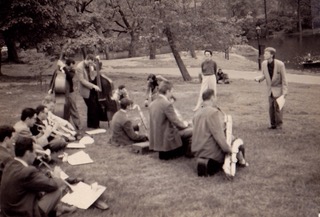 Content count

1,672

Joined

Last visited
sgcim replied to umum_cypher's topic in Artists

The Faure had the ii-Vs rising in major 3rds, but I didn't hear much of the opening four chord pattern in it. I heard that pattern in Harold Shapero's String Quartet, and I almost fell out of my chair!

I am a Tal Farlow fan and have worked with my friend Guy Littler-Jones (UK) on his Tal Farlow book which I have too.

As you write: Tal Farlow-  You have Every note he played up to 1960, and then he lost it.

What is the earliest  group he worked in? Are there any recordings made from this group?

Thanks

 

 

On his website, Bruno mentions playing with Novosel, among others in DC: " As his grandfather was very sick with cancer in 1964, he returned from L.A. to DC and in the summer of 1964 and played with Charlie Hampton and Harold"Philly" Chavis at "The Brass Rail" . Many nights they were joined by Buck Hill on tenor sax . It was that summer that Bob met bassist Steve Novacel ,who also would sit in with the band and experiment with two bass things

Bob Bruno got back to me about Andrew White and the DC jazz scene: , I used to go to the Caverns by the time I was 15 in 1960. Andrew White was in the local group I saw all the time , the JFK Quintet.They were a great little band. I have admit that I liked the trumpet player, Ray Codrington ,more than I liked White on alto. It was a ticklish thing listening to him play the oboe. I liked that. I never met him though I was around there all the time,so much so that I played bass with Dolphy and Ray one afternoon. I also wqas welcomed into the Jazz Workshop in San Fransisco ,1965,by Billy Hart who occasionally played drums in the JFK.Walter Booker was a regular on the stringed bass

The sound of Bickert's guitar, and chord voicings just worked magically with the sonority of great horn players like Tate, Desmond, Rob McConnell, Frank Rosalino, and others.

Thanks, CT, I guess I did have an early confusion between the two. White was playing wild even back with the JFK Quintet back in 1961. Switching to funk bass in the 70s was something I was never aware of before. Totally cool, wild dude. D.C. had an interesting scene going on, with super talented, creative people like Bob Bruno, Tandyn Almer and White living there. I emailed Bruno to see if he hung with White at all. Trane was Bruno's biggest influence. Ayler was also an intense influence on his both his painting and music. He had recurring nightmares when he was a kid that involved images that he uses for his paintings, and sounds that he finally found in Ayler's music. His father was a talented composer/trumpet player, who left the family to become a film composer in Hollywood.

I used to see his Trane transcriptions advertised in DB when I was in HS, and I vaguely remember seeing some of them somewhere. I somehow got him confused with Anthony Braxton- did Braxton have a zillion transcriptions of Trane. also? I remember hearing a Fifth Dimension tune a long time ago with a bass player cooking his brains out on "Aquarius (Let The Sunshine In") on a live performance somewhere. I wonder if that was him? RIP, Mr White.

sgcim replied to Hardbopjazz's topic in Artists

Happy Birthday, Houston! You saved the Phil Woods Memorial Concert in Pennsylvania for me a couple of summers ago. Until you came on, the playing was technically very good, but musically lacking. You played a great up tempo version of "The Very Thought of You" that brought the spirit of jazz and Phil Woods back to the concert., along with the wonderful pianist Bill Mays, you two made the long trip worthwhile. You're a national treasure.

I recently emailed Bob Bruno about the recent death of his old buddy, Jerry Jeff Walker, fellow member of the band they were in, Circus Maximus. He wrote back with stories about their road trip together from Texas to NYC, which entailed three flat tires and other unpredictable events. He sent me a link to a recent thing he put up on you tube featuring him playing an electronic piano that he found in the garbage, and repaired himself. There's a lot of clicking noise coming from either the keys or the keyboard stand, but i guess It was Just One of Those Things:

Paul Johnson: Brief Lives

He probably did play it. He's listed as the only guitarist in the film score in the book, "Jazz in Film", and Kessel, could play any type of pop music (he was considered to be part of the Wrecking Crew). I was amazed to find out he also played guitar on the David Raksin Western film "Will Penny", when I bought the soundtrack album. I always found it ironic that the first jazz guitar I bought was a used Gibson Barney Kessel Custom (because I wanted to sound like my hero), but Kessel barely used it when he played jazz. He preferred the sound of his ES-350 with CC pickups to the Humbuckers that came with the Gibson Barney Kessel model. In the end, I was better off with the BK model, because it was a much more versatile guitar that I could use on the R&B gigs I did with Melba Moore and Sister Sledge, and still a serviceable jazz guitar, though nowhere as good as the ES-350. Kessel hated the BK model, but it was a very popular guitar, and he received a percentage of every sale.

Yeah, BK was always a very spontaneous player, and he wails on that record. Some people accused him of sloppiness (like on that "Feelin' Free" album), but while that may be true in some cases, he makes up for it with the feeling he put into everything he played. His opinions could be kind of weird, I remember a DB interview where he started putting down musicians who were changing their names to Islamic names. He also had these creepy video lessons where he had some pretty corporate-sounding ideas abut how to achieve success in the music biz.

Wow! I didn't know there was enough material from the 69 band to fill 26 discs. It will always be my fave grouping of the band, and I'm definitely going to check it out. It was a perfect balance of composition, improvisation, song forms, lead vocalist, tasty, light drumming, ensemble writing, and melodic strength. I always thought that Ian McDonald was the most talented (compositionally) guy behind the band, because he wrote "ITTTW", and the "mirrors" section of 21st Century Schizoid Man", but he didn't do schlitz after that band (maybe some things on "In The Wake of Poseidon"). I wrote a big band arr. of ITTTW over the pandemic. Someone else has done a big band arr. of 21st Cent. Schizoid Man, so I'm not going to do something that's already been done. I posted my theory about Ian McDonald on Greg Lake's website, and he got very pissed off at me. He still claimed that everybody in the band had equal input on the writing, and practically told me to go piss off.

I first discovered BK on a great record my father had, "Great Guitars of Jazz" on Verve. Barney was featured, along with Tal, Oscar Moore, Wes, Howard Roberts and Herb Ellis. My father loved Wes, but the other guys, he wasn't crazy about. He used to call Tal, Tad Farlow, Barney, Barney Kessler. Anyway, he found a guy playing the schist out of a guitar in amusic store, and he got him to give me guitar lessons at about the age of 12 or so, and he was a real Kessel freak. He loaned me a bunch of Kessel albums, which I taped on my Sony Sound on Sound reel to reel tape deck. I could slow the tapes down to 1 and 7/8 speed, and sit around for hours trying to copy Tal and Barney.. I worshiped the ground my teacher walked on. He had Dale Carnegie's "How To Win Friends and Influence People", and he probably brainwashed me to like him. One day he brought in the BK album "Guitarra", and raved about the way BK bent his strings while playing with an Italian organ trio, so I raved about it, too.That's my album suggestion.