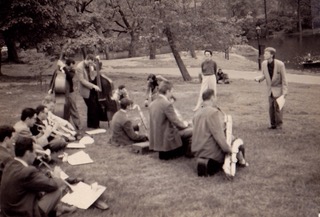 Content count

1,952

Joined

Last visited
They misspelled my buddy Aaron Sachs' last name (Sax!). Those three guys SW mentioned that played in his big band were under recognized, great players. None of the kids can play like Aaron, Johnny Amoroso, or Eddie Bert, and now they're gone. We still have their records, but nothing can replace the excitement of playing live with Aaron Sachs on the tenor. In that bag, only Getz was on that level.

Thanks for posting this interview TTK! It inspired me to email DA about a guitar transcription I made of one of his tunes. He got back to me, and said he wants to play with me sometime.

Man, I envy your parents. You don't work for people like Gordon Jenkins and ray Charles without being one of the best. For some people, the Ray Charles gig was a lifelong dream come true. A pianist I've mentioned before, used a Wurlitzer just like his hero, and was also a lifetime junkie like his hero. He had the gig for three or four years. They must have really been a riot together. He's on one of the live shows in Europe, along with that Detroit trumpet player Ray used.

I did a show where Johnny Mathis was the headliner, and I was playing for one of the other acts. All I remember is Johnny Mathis carried his own guitar player with him, and the guitar player was always barefoot. JM had great taste in guitarists. He once had Buddy Fite as his guitarist, until BF couldn't take the air travel anymore.

Yeah, there is the hope that you can play it and some beautiful chick like Jessica Walter with BPD will fall MADLY in love with you, stalk you, and kill people that stand in her way, until you have to blow her away with your Smith and Wesson before she hacks you up with a pair of scissors, but I've played it so many times on gigs, that I want to punch out the jerk that calls it on a gig as a ballad. It might be fun if it were done as a medium tempo, like Houston Person did with "The Very Thought of You", but if I have to hear another male singer say that he feels "as helpless a kitten up a tree", I'll puke mu guts out on the stand. It's just been overplayed to death.

The last days of the Bill Evans Trio. https://www.tamupress.com/book/9781574418446/times-remembered/

On the IMDB he gets credit for "Music by" and "Music Adaptations by"

The lack of reverb on Wes Montgomery's Riverside recordings was the only thing that stopped me from buying that boxed set.

Yeah, in the interview in the book, he said that "Touch of Evil was the score he was most proud of out of all his scores, definitely not light comedy or light suspense. He felt that Peter Gunn owed more to Rock and Roll than jazz.His time writing for the Tex Benecke version of the Glen Miller band got his big band writing chops together. He studied composition at Julliard, and studied privately with Krenek and Tedesco, so he was capable of writing in most styles.

AB used to work in 'the mountains' playing piano with this trumpet player I worked for. I asked him if he'd introduce me to him, but he wouldn't for some reason. The same guy also said Charles Fox was going to be at a gig we played, and then the jerk forgot to introduce me to him, when the gig came up! I just heard a Baxter score to an old horror film that knocked me out!

Yeah, there was a ton of crazy stuff going on in soundtrack LPs. You never knew what you were going to get until you saw the track listings. If the composer wanted to add some of his other tunes, he could do it for whatever reason. Then there were a number of 45s made from the score that could turn out to be hits, that were recorded by the composer, or someone like Herb Alpert, The Ventures, etc... There could be some great cues that were cut out by the director from the film, that appeared in full on the LPs. The composer could choose to use a completely different set of musicians than the ones that played on the original soundtrack. And then there were rejected scores that no one ever heard, as well as films and TV shows whose music was never heard again-for all time, because they didn't make a soundtrack LP out of it. I just read in the book that "Chinatown" had a complete score written by a different composer, that Polansky decided not to use. That left Jerry Goldsmith two weeks to write the score that was used for the film. JG didn't think the film needed a jazz score, and the only reason it was included in the book was because the trumpet player (Uan Rasey) decided to interpret the theme using a bluesy sound, which Goldsmith said was "interesting".

RIP, I liked him in Compulsion and Rapture.

Nice stuff! There's so much Mancini mentioned in the two volumes of the "Action Jazz" book,that I've made notes on every page of both volumes.Everything he wrote for TV and film is covered, and that's just in the crime and spy genres. Some Mancini we've played on gigs are Dreamsville Theme from Two For The Road Mr.Lucky There's almost no end to the jazz-based music written for film and TV, and the author goes over the ENTIRE OUTPUT of composers like Mancini and his fellow writers, like Don Ellis, Johnny Mandel, Lalo Schifrin, J'J Johnson, Quincy Jones, David Shire, Charles Bernstein, 'Johnny' Williams, Jerry Goldsmith, Oliver Nelson and on and on and on..... It startled me the other day when I passed out the parts that i had written to my arr. of a great tune by John Williams, and not one of them ever heard of it! They're limited to the same songs from the Real Books, over and over.

sgcim replied to Hardbopjazz's topic in Artists

Happy Birthday, Houston! I'm still grateful to you and Bill Mays for saving the Phil Woods Memorial Concert from becoming a non-swinging bore.