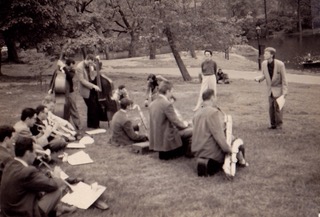 Content count

1,654

Joined

Last visited
At age 78. He'd been suffering from cancer for a while. RIP.

Stevie Winwood was already known as a jazz musician even before he joined Spencer Davis. He played with Muff in a family traditional jazz band. Just to show what class and integrity SW had; when he was asked to perform in a Ray Charles Tribute concert in the UK as one of the lead acts, he told them he was nowhere near the level of artist that Ray Charles was, and that he would feel out of place performing at the concert. RIP, Spencer Davis.

He's still got them. I don't think he has a list, but it was all at clubs in NY.

My father played the guitar during the Depression, and tried to hit it big as a songwriter. The furthest he got was entering a Tommy Dorsey song contest with a song he wrote called "This Love of Ours", which he and my aunt gave to Buddy Rich when he was playing with Dorsey at a Hotel in NY. The song later came out as a Sinatra hit called "This Love of Mine" with the melody changed enough so they couldn't sue them. There were three names on the song, Parker Sanicola and Sinatra, which was done because the lawyer my father consulted said it would be harder to sue three people rather than one or two. , He had a love for music that never waned until he had a stroke at 79, because his carotid artery was 99% clogged up. He stopped listening to music for the last 14 years of his life, although he seemed to like the CD I made and never released. Anyway, this seems to be a topic that holds a fascination here that never seems to be satisfied.. The MIA Teasing the Korean's father was much more accomplished than mine was, and probably had a fantastic collection. My father's was mainly guitar centered,but he had a thing for female vocalists like Cleo Laine,(he always said her voice was like a musical instrument), Sarah Vaughn, and Shirley Bassey(?). He never held anything against Sinatra, and had a few of his albums, but one album he bought that changed my life was the Verve album "The Great Guitars of Jazz". It had cuts by Kessel Herb Ellis, Tal Farlow, Wes, Howard Roberts and Oscar Moore. He also had "Piano and Pen", a Dick Katz LP that had Jimmy Raney on some cuts, and ,Chuck Wayne on the others. He also had a lot of Tony Mottola albums, but his favorites were Wes Montgomery and Django Reinhardt. Every week he'd come back Friday with new albums. All the jazz albums had guitars on them, so I got to hear Gabor Szabo, Johnny Smith, Grant Green, Cal Green, Dennis Budimir, Rene Thomas, Kenny Burrell, Barry Galbraith, Lloyd Ellis ("The Fastest Guitarist in the World"), Gene Bertoncini, Mundell Lowe and Buudy Fite. My uncle was more of a pure jazz buff, and when we went over his house, I spent all my time going through his record collection, until I wa called for dinner.

I found the mp3 of the Jubilee concert with all four guitarists on the Old Radio Shows website. Garrison had the more polished technique of the four, although LP and IA had more exciting solos.At the end of the LP rendition of Honeysuckle Rose, there were four guitars playing in harmony, like LP's later double tracked recordings, but this was a live concert, so it had to be the four guitarists playing together.

I listened to the Jubilee concert online that had Andre Previn playing with Barney Kessel, but I didn't hear Arv Garrison playing How High the Moon". Is there some recording of it? There was a very modernistic (for the time) arrangement of some band playing "Begin the Beguine" with the guitarist playing some interesting parts along with pizzicato strings. Was that Garrison?

Wow! He was an excellent player. Kind of the missing link between Django, Charlie Christian and the bop players that followed him. More melodically gifted than Chuck Wayne, a far superior player than Bill D'Arrango, stronger than Billy Bauer at that time, he definitely was one of the finest players of the 40s. Thanks for posting that.

It's hard to follow an artist all the way to the end. Towards the end, they usually go somewhere I don't like, lose what they used to have, or over- record and I know all their licks. If they die young, or quit after hitting some type of wall, it's easier to have most of what they did. One example of that is: Eddie Costa- dead at 31, but leaving behind an extensive discography as a studio musician. I think I have just about every jazz session he ever played on. He was just starting to add McCoy's bag to his playing when he died. Others that I have made a concerted effort to have a full discography of are: Tal Farlow- Every note he played up to 1960, and then he lost it. Joe Puma- I think I have most of it. Dick Garcia- All I lack are private tapes of him jamming with his family on Sundays that his nephew has, but aren't for sale... Ed Bickert- Just about all of his leader and sideman dates. Jimmy Raney- I even have stuff never released. Johnny Smith- all of it Lenny Breau- all of it.

Yeah, she's an incredibly talented singer/guitarist, but she changes the mood of most songs she covers into a weepy folk ballad.

sgcim replied to Dmitry's topic in Artists

EVH had been in poor health for quite a while. RIP, EVH

I Am Woman would've fit in great with this satire on the feminist movement on SCTV:

There was a certain year when they started referring to pop stars as "recording artists", no matter how worthy their music was; probably in the late 60s. I always wondered who and what was behind that. HR was an artist when she sang a great tune like "You and Me Against the World" (we used to do it with funk kicks, which used to make it into even higher art), but what do you call her when she sings a hokey song like "Delta Dawn"? Then again, I saw a live version of her doing it on YT, and the band was effectively funkifying it, hence lifting it up to the level of art, so I guess it goes on a case by case basis. And yet, Barry 'Manifold' was capable of creating good art when he wrote a song like "Could This Be the Magic", based on Chopin;s changes. Again, case by case.

Alright, I deleted my stupid post, but the last post gives the impression HR wrote "You and Me Against the World" ( an excellent song), even if the poster didn't intend to give that impression. It was written by Kenny Ascher and Paul Williams.

They don't use that cycle, they use the Ab major instead of Fminor.