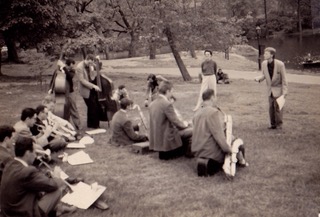 Content count

1,817

Joined

Last visited
sgcim replied to Teasing the Korean's topic in Artists

He once described his music as bebop adapted to pop music!

Yeah, I always wanted to hear some of Vladimir Duchevsky's 'serious' music. Anyone who could write Autumn in NY must have written some interesting stuff.

TTK BACK IN DA HOUSE! Fascinating interview with a guy who was sideman on a bunch of records, who I always wondered about. Good to hear he hated Schoenberg's music when he was at Julliard. That chamber piece he wrote for Count Yorga sounded like a great piece of music. I was completely unaware that he scored the Yorga movies and the film that featured hippies treating a vampire as their guru, "Deathmaster", in addition to the Blacula sequel. I'm going to look for his autobiography to find out more. Thanks!

Here's another thing that Bill did on Contemporary that I never heard, and it's just one movement of four, with him playing clarinet! I don't know why he wasn't considered the next Buddy DeFranco PLUS Geo. Russell, Gil Evans, etc..This thing was done by Shelly Manne back in 1956. Some clarinet player named McGuiness recently recorded the whole thing and videotaped it. I asked my friend who received the Grand Prix in Rome along with Bill in the 60s, and he never heard of the chamber music LP you mentioned on Contemporary. Here's Mike McGinnis playing it live:

sgcim replied to bresna's topic in Artists

I was just talking to a trumpet player friend of mine who went on the road with Lionel Hampton ("Gates") back when Curtis was playing with the band. Gates would play all the well known crowd pleasing stuff on most gigs, but when they played Detroit, he wouldn't use any of the white players,except my friend, who had an Afro back then. Gates figured the people wouldn't know what the hell he was! They'd change their repertoire, and play stuff like "Moment's Notice", and my friend would have to play it with Curtis, scared as hell! He said Curtis paid him a compliment (kind of) by saying he had a weird way of playing, but it works. RIP, Curtis.

Yeah, Lennie and Chet were very close friends. When Lennie died ( police think that he was strangled and dumped in a pool) Chet couldn't even talk about it without breaking down and crying, as he did during the documentary on Lennie made by his daughter.

I never knew they did these things live. #1 I don't get involved in Middle Eastern politics #2 Disliked, I don't care who it is. #3- The great Lennie Breau. He went on the road with her, so this must be a tribute to her. Only Lennie could play those false harmonics so quickly in chords, so it's got to be Lennie. #4 - That's got to be Ray Crawford on guitar Benson couldn't play that well if a gun was pointed at his head, and it's not Burrell or Green. Great cut! #5- ATTYA There are so many great lines you can play on a fifth fall chain. Just listen to Bach. #6 Great cut! If Jim said JG, then it's either him or someone on his level. Masters all! #7- Who cares? #8-Definitely Quincy and all the NY boys. Phil and Urbie or Cleveland take no prisoners. #9- Some of the things he did with Emily reminded me of The Peacocks, so maybe Jimmy Rowles, or someone influenced by him? Very conservative rendition, but good.

Perry R. studied withTony Scott and used the same embouchure that Scott used; no upper teeth on the mouthpiece, just lips. But Scott had a freak, enlarged diaphragm. Scott used to play lying on the floor and tell Perry to jump on his stomach while Scott was playing the clarinet. Scott didn't even feel it! Perry had a normal diaphragm, so he couldn't get the same sound as Scott, or play those long lines without a breath that Scott could play. Scott was one of the first clarinetists to bring Bird to the clarinet, then he became one of the first to bring Trane to it; by virtue of his freak diaphragm.

CRI was a great record label.I used to buy their vinyl every week at Tower's budget LP store in the city. I know they went to cassette tapes at one point, but did they ever go to CDs?

A friend of mine played a multi-movement piece WOS wrote for jazz ensemble (like "All About Rosie"),for us before a session, which I enjoyed tremendously. Along the lines of pre-LCC George Russell. My friend met and hung with Smith in Europe when they both won the Prix de Rome in their respective fields, so the piece could have been a European production.

It's funny everyone was raving about PRS guitars years ago, and a student of mine ran out and bought the Santana model. It was a POS. Then I tried other PRS models and they were fine. Maybe the Santana model had the old pickup in it.

Herb Ellis could be a real dick. He called the luthier that made both of my guitars, and told him he'd play one of his guitars, if he gave him it for free. The luthier told him to go screw himself.

All of them were great, along with his Symphonic Mouvements for Orchestra.Never understood his neglect, unless the French were using him as a scapegoat...

Then there was the interview with Chas. McPherson where he talked about his first gig with Mingus. Eric Dolphy told Mingus he wanted to leave the band, and Mingus pulled a knife on him, and told Dolphy to pull out his knife. Dolphy said he never carried a knife, so Mingus went across the street to buy him a knife. When Mingus returned with the knife, Dolphy refused to pick it up, and just said. "Mingus..." The other guys in the band managed to talk Mingus out of having a knife fight, while CM sat there wondering wtf he was getting himself into...