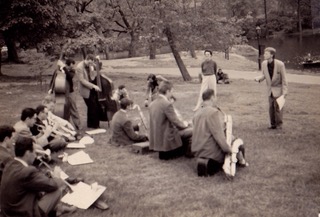 Content count

1,867

Joined

Last visited
sgcim replied to Hardbopjazz's topic in Artists

The dude was hip to jazz. There were a bunch of tenor players I knew that passed his touring gig around to each other. One guy who I was working with at the time told me about the first time he met Lou. The band was having breakfast with Lou early in the morning. The manager says to Lou, "Lou, here's our new tenor player!' Lou, seated in front of his breakfast extends his hand to my friend, and says "Hi welcome aboard"...and then falls asleep, with his face falling into his eggs!

I see it took me four days to finish the Steely Dan book, and I'll just share the jazz comments they made in interviews. Donald Fagen was fascinated by Red Garland's "Jazz Junction" album as a kid, and has spent his whole life trying to emulate it. He said he took three or four piano lessons, and spent a summer at Berklee. His mother was a big band singer. He said Wayne Shorter took three takes on his Aja solo, because he had a little trouble with the changes.Phil Woods' solo on Dr. Wu was a ONE TAKE solo. Both he and Becker described the history of the world as: 'The planet was formed. Then it cooled off. Then fire was discovered and the wheel invented.Then Bird appeared, and it was all downhill after that' 'Since the late 70's, people feel the center of the beat in a different place than where we feel it.We're trying to put it where Miles, Monk and Muddy Waters put it.' 'We just want musicians that have a jazz background, and can play R&B or understand what's good about that.' 'More musicians don't like jazz. Musicians went in a different direction. It's not that they're not interested-they actually dislike it- it's actually repulsive to them.to move away from triads.That's standard since the bebop era. You can still clear a room in downtown Manhattan by putting on a Charlie Parker record.' Fagen admired Mancini's "Dreamsville" and "A Profound Gass". The writer of the article said, 'Sometimes we need experts to teach us the art of making fine distinctions, and keeping valuable traditions alive'. There are other sections on jazz featuring Peter Erskine's tenure with the band, and the attitude of some of the jazz musicians they used, but that's the gist of it.

When I was still in my teens, I did a show with Jimmy Knepper, and I said to him, "Wow, I've got that TS album that you play on that sounds like a jam session. You sounded great on that." The album was "Free Blown Jazz". He remembered the record and asked me if I could bring it in the next night so he could tape it. Luckily the gig was for a full week, so I gave it to him the next night, and he returned it the night after that. Years later, we did a jazz festival gig together, and I asked him if he remembered me loaning him the album, and he said, "No".

If you liked the Mundell Lowe TV Action Jazz album, you probably flipped over the cut "Riff Blues" (Mike Hammer Theme), which features TS in his Ben Webster bag, with that beautiful, breathy, bluesy sound on that wonderful ballad. This was an album which literally changed the life of my friend TTK, a member here, and I'm sure he'll have some great suggestions on TS records once he finishes his daily martini party. OTOH, there is another member here that also has exquisite taste in music, but because a musician he admires put TS down very strongly, he will try to dissuade you from listening to TS at all. Don't let him get to you... I would suggest you heed Ken Dryden's sage advice, and look for his recommendations, but also look for two records he made with the mysterious jazz guitarist Dick Garcia: "A Message From Garcia" where TS goes under his real name A.J.Sciacca, and plays with that mellow, fluid sound he gets from using his unusual embouchure (both lips on the mouthpiece- no upper teeth on the back of the MP), with no grandstanding, frenzied high register playing at all. "Both Sides of Tony Scott", which has him with the great Garcia on one side of the record, and Mundell Lowe on the other.. Again, little if any frenzied high register stuff. However if you'd like to hear TS work himself to the frenzy of his life, look for the cut, "Blues For an African Friend", which is featured on some compilation records,, but here he is doing a shortened version of it: Another good TS album is Tony Scott in Hi-Fi, featuring Dick Katz and Milt Hinton. One side is live, and the other side is in the studio. He sounds better in the studio. His two big band albums are good, "The Complete Tony Scott" and "The Touch of Tony Scott". The latter features more original, modern arrangements

Reading "Major Dudes" edited by Barney Hoskyns. It's just a compendium of articles written about Steely Dan from 1972 to the present; mostly from British magazines. Donald Fagen makes some interesting comments about their performance of East St. Louis Toodle-Oo in Melody Maker, June 1974: "Walter and I are both jazz fans, and as a composition this one stood up so well, we wanted to hear it with all the expertise of modern hi-fi. Most of the great jazz compositions have been neglected. There is no jazz in America now. There is a considerable amount of electric experimenting, but that doesn't interest me and their improvisation is strictly modal- and boring. John Coltrane was a fantastic player, but he was responsible for leading people into making a terrible mistake. I like more changes in music and, anyway, I I preferred John before his modal period, when he was with the Miles Davis Quintet. "So there is no jazz of note in the US now. Most of the stuff played is nostalgic '50s arrangements with good soloists. And of course Miles Davis has gone over the edge." I'm only on p.72, so it hansn't even gotten to Aja yet... "

I just finished six paid rehearsals/shows of "Legally Blonde" in Nassau County of Lawnguyland, and everyone claimed to be vaccinated, so almost nobody wore masks. I was maskless for the first rehearsal, because there was proper ventilation, but the rest of the paid rehearsal/performances were in an auditorium with poor ventilation, so I was the only one who wore a mask. The audiences only had a few people with masks. It's been five days since the final show, and I'm symptom-free. I don't know about everybody else.

sgcim replied to sgcim's topic in Artists

Found a tribute concert for him online with the dates 1959-2010, sadly. RIP to one of the greats.

I think it was from Spellbound. Thanks for the Fifth Dimension (and all of the other tracks!) track! I've always liked them and the great Bones Howe production- now I love them!

Sorry, I thought I cued it up to the track, which is Yearning, written and vocalised by GS himself. GS and Gary McFarland appealed to swingin' couples of the 60s so much, that they included a track of GS' in a swingin' couples party scene in "The Queen's Gambit", which incidentally was written by the same novelist who wrote "The Hustler", and "The Man Who Fell To Earth"! Despite the album cover, that Bert Kaempfert music sounds like it should appeal to swingin' couples on Geritol!

I do Don't know if there are words to this one, but if there are, it's in French, and it might as well be wordless to me: Then the SU came up with this one:

How could you possibly forget the score you posted a month or two ago TTK? Taken from a Robert Sheckley short story, with Marcello and Ursula Undress: Gabor Szabo recorded this one, and though it's not a chorus, it's got wordless vocals (like a lot of Gary McFarland things). I made up lyrics to it a long time ago about a swingin' 60s couple running into trouble, because the woman just couldn't get hip to the swingin' 60s decadent lifestyle:

Heard some great things by him on You Tube. Anyone ever hear of this great Argentinian jazz/jazzfusion guitarist? Is he still around? He must be in his late 50's. Played with Paquito DeRivera in NY for a short time, otherwise stayed local.

sgcim replied to Hardbopjazz's topic in Artists

Happy Birthday to one of the last living greats!

Thanks for the alert. Even though I read Simon's book on Tubbs, I can never get enough of Tubbs, and his writings on Ronnie Scott, Gordon Beck, Terry Shannon, and Peter King are also quite fascinating. I arranged Dick Morrissey's "What Did I Say About the Box, Jack?" for big band (including a note-for-note transcription of Morrissey's marvelous tenor solo-genius grace notes included), and none of the players in the NY big band that played it had ever heard of Morrissey! There's clearly a need to educate musicians about Terry Smith, Morrissey, and the musicians I mentioned above. Some of the greatest jazz in world history was drowned out by the popularity of The Beatles, Mahavishnu, Fred Zeppelin, Eric Clapton, etc...

sgcim replied to Hardbopjazz's topic in Artists

Right on LW; it's what makes jazz, jazz, or jazz oriented.