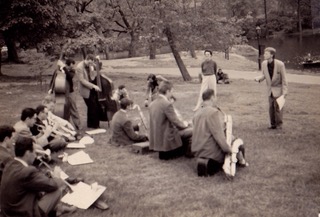 Posts

2,103

Joined

Last visited

Donations

0.00 USD
Recent Profile Visitors
The recent visitors block is disabled and is not being shown to other users.
sgcim's Achievements
Rookie (2/14)
Recent Badges
I'm only interested in the stuff from 1971 that has Bob Harris(1) playing the long keyboard solo on Billy The Mountain. I bought "Playground Psychotics" for it, and it smoked. Harris subbed for Preston on the first part of the tour, but then Preston came back sometime in the late Summer. I don't know if you want to go to the trouble of checking that out for me (because it may be just a small portion of the collection that I'd be interested in buying- I'm not interested in any post-Harris material), but if you're interested in selling just that part to me, I'd have to know how many discs have Harris playing that solo.

The NYC Jazz book has some great jazz pictures in it, but they're interspersed with pictures of the author's parents sitting at dinner tables, WWII service pictures of her father, pictures of her mother with when she was single with two of her single friends with a caption saying this was the last picture of them before they each got married, pictures of Doris Day, Vivian Blaine at the Stork Club,non-jazz singers Betty George, Ann Hathaway, Jeanne Cummins, Betty Brewer and Harriet Hilliard, wife of Ozzie Nelson (Ozzie and Harriet). There are numerous pictures of Les Paul with the same paragraphs underneath about how he invented multiple tracking, and designed a guitar that is used by prominent rock guitarists, over and over again. A picture of her mother's brother in a bathing suit on the dock of Newark Bay. More pictures of Doris Day and Ann Hathaway, pictures of a scary looking female bass player Vivian Garry, a few pictures of Josephine Premice, a Broadway singer/actress, more pictures of Jeanne Cummins with the society dance band of Bernie Cummins. Then, for some reason, the book climaxes with huge page-length pictures of Joe Satriani, a rock-fusion guitarist, Eric Clapton smoking a cigarette in the middle of a field,and Jimi Hendrix holding his Stratocaster, smiling at us. While it does have shots of jazz clubs on 52nd St. with some jazz musicians, there are an equal number of 'society' dance bands with attractive female singers This is published by Arcadia , which apparently specializes in picture books of various towns and cities- not jazz.

I think I've managed to find the worst book ever written on jazz in the history of mankind. I stumbled on to it during a search, and was excited by its title, so I ordered it from my local library. The title is "NYC Jazz". I abbreviated the city involved in case the author is out there and wants to murder me. Has anyone ever uh... read this? It's mainly pictures with unbelievable blurbs written underneath the pictures.

I went into NYC for the first time since the pandemic to see the world premiere of the documentary on Judee Sill that I had contributed some home recordings of the jazz pianist she married, Bob Harris. https://www.docnyc.net/film/lost-angel-the-genius-of-judee-sill/ The two directors of the film worked for NINE Years(!) on the doc, and it showed it. It was done very well, considering that she died back in 1979, and they had no footage of her speaking. They used a voice actress to simulate JS' voice on the two interviews that she did for Rolling Stone and some other periodical, and she also read the letters and diary entries by JS, that her family had contributed to the directors. They went over the tragic stories of her life; child abuse, robbing liquor stores, jail, prostitution, drug addiction, back injuries,etc.., which I had heard before, so I didn't find particularly affecting. But then they played some of her music through the incredible sound system of the SVA Theater, and when they reached some of the string arrangements done by Bob Harris (the first album) and JS (the second album), I felt the tears welling up in my eyes. Her music could be very powerful emotionally, even though the lyrics dealt with her weird theosophy that audiences pretty much ignored back in the early 70s. Then the credits rolled, and I was surprised that they included my name in big letters under the "Thanks to" part at the end. I was so surprised, I burst out laughing. A young woman from Rolling Stone interviewed the two directors and the singer/songwriter Shawn Colvin, who had covered one of JS' songs. Since I knew most of the things in the film, I decided to ask about the incident in which David Crosby was bugging her and JS took off his belt, and started running after him, whipping him with it as Crosby fled for his life. The director I emailed about it said he had heard that there was a rubber chicken involved, so I asked him about the David Crosby "Rubber Chicken Incident", and the packed theater started laughing. The director seemed kind of embarrassed about the question, and said he couldn't discuss it publicly, and they ended the Q&A session on that note. Anyway, the audience concluded that not enough people knew about JS, and the directors urged them to spread the word about her. You can still see the doc streaming on the web through the link I posted above, so I've done my part.

Jim Hall played "Skylark" for Jimmy Raney's Memorial service at St. Peter's. I'm pretty sure he played it at some other guitar player's service also( Atilla Zoller's?). I played "Nancy With the Laughing Face" at my mother's wake. I started singing it at the part where her name is mentioned, but then I burst out crying

Good to hear that security features are being updated. I read something online that showed you how to delete your caches and cookies, so I tried it, and got knocked off of every website that needed a password. That was no big deal for every website except this one. I forgot my old password and when I tried to set a new password, I got an ominous message that I would be compromising all personal information in my account if I reset my password, so I ran for the hills with my tail between my legs. I tried to reset my password this time, and it seemed like this website was more secure when I went up to the symbols in the address bar, so I reset a new password, but after I did that I got a new message in the security images in the address bar with a triangle on my padlock which means: "A padlock with a triangle indicates that Firefox is not blocking insecure passive content, such as images. By default, Firefox does not block mixed passive content; you will simply see a warning that the page isn't fully secure. Attackers may be able to manipulate parts of the page like displaying misleading or inappropriate content, but they should not be able to steal your personal data from the site." Which is better than the previous message, but is this website going to be totally secure come Dec.1st, or will it be the same as it is now (which seems to be okay, except for insecure passive content such as images)?

Does anyone know what happened to the merchandise Phil was selling on his website? He had a tape of a recording session I did with Joe Dixon that had a bunch of my compositions and arrangements going for $25 for sale. I came into some big money ($27.50) last night when I dumped all my pennies, nickels and dimes into one of those coin machines, and I'm looking to spend it somewhere...

He was also another house drummer for CTI. He's on one of those Turrentine records mentioned in the Creed Taylor thread.

Bob Bruno told me he used to play at a club in LA in the early 60's where MTM would be sitting right in front of him. Imagine Laura Petrie within touching distance for four hours! Rob was probably out doing Millie... Bob Bruno told me he used to play at a club in LA in the early 60's where MTM would be sitting right in front of him. Imagine Laura Petrie within touching distance for four hours! Rob was probably out doing Millie...

They never showed the Petrie's bedroom, just that same freaking living room, where he trips over the furniture every week, so we can only assume the Petries were celibate throughout their entire marriage.

Hey, little girl, Comb your hair, fix your make-up. Soon he will open the door. Don't think because There's a ring on your finger, You needn't try any more For wives should always be lovers, too. Run to his arms the moment he comes home to you. I'm warning you. You're telling me that Hal David warning women that they should behave like obedient little dogs is not dated and cornball. Even Michael Bourne (RIP) put this one down on his radio show as hopelessly outdated and anti-feminist! LOL!