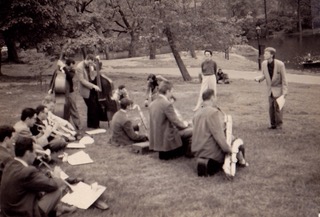 Content count

1,432

Joined

Last visited
Everything posted by sgcim
sgcim replied to jazzcorner's topic in Artists

There's a lot of good info on Holman writing for Kenton and forming the Bill Holman/Mel Lewis Quintet in 1957-58 in "View From the Back of the Bus", a bio on Lewis by Chris Smith. I summed it up in a long post, but it was deleted, and I don't have the time to write it again.

Alto sax player, Leo Ursini passed a few days ago at the age of 82, after a long battle with cancer. He played and recorded with the Louis Armstrong Society Jazz Band, the Birdland Big Band, and The Lew Anderson Big Band. He taught Jazz saxophone at Columbia University. He was well known for performing with Frank Sinatra and Tony Bennett, and appeared in the motion picture "When Harry Met Sally', plus any Woody Allen movies featuring a jazz big band or small group,and countless Broadway shows. In short, he was the prototypical, successful NY sax player. I played many gigs with him in various bands, and he completely floored me once by an astoundingly perfect, 'night in tunisia'-like ' break on my big band arr. of "Motherless Child", the first time he ever saw it! Many other alto players underwhelmed me with their attempts at playing this break at a blistering tempo....

sgcim replied to jazzcorner's topic in Artists

Irwin Chusid (the author of the books on Jim Flora's work, along with Barbara Economon on three off them) is a musicologist of sorts, who has a very good radio show on WFMU in New Jersey. He's also the author of "Songs In the Key of Z", an interesting book on 'outsider music', which includes a chapter on Robert Graettinger. During my recent fascination with Gerry Mulligan's journey across the US with Graettinger's ex- live-in 'lover' (she reported he was impotent), I contacted "The Mighty Irwin" (the name of his radio show), and he surprised me by returning my email in less than five minutes.

Jazz From Detroit was a great book! Important info on some greats who have never been featured in a book before, and new info on the others.

No, but VL is all over you tube.

They just played an interview Phil Schaap did with Jimmy Heath, and Jimmy said he had a recording date with Miles Davis, and they called him just before the date. and said that Charlie Parker was broke, and needed some money, so Bird was going to replace him. Jimmy agreed, but asked them to record a tune he just wrote called "The Serpent's Tooth". They picked it up, and recorded it, but Miles Davis took credit for the tune Jimmy wrote. heath described himself as naive....

They just played an excerpt from an interview Phil Schaap did with Heath,24 years ago on WKCR. Some great stories of his times with Miles Bird and Trane. Heath said he was supposed to do an album with Miles once, but Bird was broke and needed the money, so he let Bird take his place. He asked them to include a tune he just wrote called "The Serpent's Tooth", so they picked up the music from him and recorded it. I don't think he got credit for writing the tune.....Miles stole another tune.!

I just got a huge book written by Stephen Thrower, a rock musician (Coil) out from the library on Franco's films. Since JF made close to 200 films(!) it's in two huge volumes of about 500 pages each. The maniac spent ten years watching JF's films, and he analyzes each film according to their music, connections to other films, etc... Franco was a jazz fanatic, and always used jazz in his films, even if he could only afford film library music on some of his cheapo films. However, on films where he had a decent budget, he used various Spanish jazz composers, and would sometimes feature himself playing jazz piano solos in one of his infamous nightclub scenes. His main composer was Daniel White, who was able to write in any idiom, and according to the author, has some interesting stuff available on you tube. Thrower has written another huge, two volume work on US exploitation films of the 1970s called American Nightmares. Since he is a musician, and goes deeply into the music of all the films he analyzes, who knows what he came up with in that exhaustive study. He convinced Clive Barker to let his band Coil score the music for Hellraiser, but it turned out to be a disaster, and they had to hire a film composer to do the score.

sgcim replied to Brad's topic in Artists

Very sad to hear. I loved the sound of the rotary trumpet when he played it. RIP. Claudio...

Yeah, Gene Orloff (nice Jess Franco reference!) was a real operator. He acted as their producer, so he could get those poor four kids to sign anything. Cool story about Caro!

RIP. One of the members of The Left Banke, who wrote Pretty Ballerina and Walk Away Renee was the son of the famous studio violinist Gene Orloff. Orloff helped them with string arrangements, and even had his own studio where they recorded. Orloff even recorded some jazz violin albums of his own. They had some internal struggle in the band, and kicked out Orloff's son, who had changed his name to Brown.

Mark Stryker wasn't too excited about the commercial part of Byrd's career in "Jazz From Detroit". He generally treats most of it as sell-out, after a very successful jazz career. His career change received a much 'softer' treatment in the "Hard Bop" book. I confess to being completely oblivious to the fact that i was playing anything that had to do with Byrd when i was playing :Walkin' In Rhythm" on the many gigs that they called it on. Groovy little flute solo there!

A friend of mine worked with Moody for several years in Vegas, and he said if you ever wanted to get a rise out of him, all you had to do was mention Ornette's name. he'd get up and preach about what a jive-ass he thought Ornette was!

That was the point, they didn't take it anywhere, it stayed on the page. We all thought it was a fine album at the time, but he was so bugged with it, according to a sax player I knew who was studying with him, he stayed with Gilmore and Goodwin for more than 30 years. He had gotten a taste of the freedom of playing with the ERM, and he had to get it back. When you compare it to the Goodwin/Gilmore/ Melillo/Galper (and Leahey) groups, you know what he's talking about. Charlap completely destroyed that band on that awful Hollywood, Love Songs POS. album.

Phil Woods never had much luck on the West Coast. He refused to play flute, so he couldn't get studio work. His attempt to go electronic earlier on Chromatic Banana was an abortion, IMHO, so I never checked out the Pete Robinson album. He had just come back from Europe, which went pretty well for him, and he thought the rep he had from The European Rhythm Machine would propel a solo carrer for him, but it didn't work out like that for him. His big break came when he was staying with Jerry Dodgion in NYC, and Michel Legrand called Dodgion for a gig, and Dodgion was on the road, so Phil took the call and talked his way into the gig. Legrand was knocked out by Phil's playing (he was a better improviser than Dodgion), and the albums and concerts he did with Legrand put his name in front of the public, and he was finally able to launch a solo career in the US. His Musique du bois album in Phil's words, 'never got off the page', so he formed his own band with Goodwin, Gilmore and Melillo, and toured relentlessly,.Melillo could take things pretty out, so I don't think the characterization of the music his quartet played in the 70s as only 'bebop' is correct at all. When we saw them at the short revival of The Half Note in NY, Melillo took things so out, tempo and tonality disappeared so completely at one point, that there was a long moment of silence, before they started playing the tune again!

I used to go see him after gigs in Manhattan back in the 80s, when he was playing with the Joe Puma Trio at Gregory's on the upper east side. They had that steady gig for many years with Frank Luther on bass. Funny stuff used to happen every time i went in there. One time, I was talking to a young Japanese woman, who was a reporter for some Japanese magazine. She said she was covering new music in the US, and was wondering why there were so few people in the tiny club. After I finished laughing my head off at what she said, I told her that young people don't give a shit about jazz, and to go downtown to Danceateria or CGBGs to see what young people were really into... Another time, Hod was just back from jogging, and he was bragging to a young woman about how far he ran, and was trying to pick her up. When he asked her for her phone number, she put him down so bad, I can still see the look of amazement on his face! Joe Puma would always be a pisser to talk to, with some great stories about Dick Garcia and others. They recorded two fine albums, live at Gregory's; "Shining Hour", with Red Mitchell on bass, and an album with the boss' chick, the vocalist Alicia Sherman, which is only available on vinyl. When I found out Hod had passed, I immediately bought the short autobiography he wrote, "Have Piano...Will Swing!" Stories about the Jazz Life. It's got a great discography, and some cool stories from Hod's life. Unlike most players in NY, Hod was a down-to-earth, fully formed person, not some egotistic half- formed cretin.

sgcim replied to Daniel A's topic in Artists

I saw his album in record stores when I was a kid, The Craig Hundley Trio. I always wondered what happened to him. Now I know. He changed his name. Thanks.

A quick search on the Columbia U library website reveals: Duke Ellington- 100 books on the subject of, Miles Davis- 91 books on the subject of, Louis Armstrong- 88 books on the subject of,

After a takeover of WBAI 99.5 FM, a NY, Pacifica, listener supported (absolutely NO corporate support, as opposed to the BS NPR NY radio station WNYC, which has MASSIVE corporate support, including Facebook!) radio station in November by two renegade Pacifica board members, WBAI returned to the air in December. They built a new studio in Brooklyn, which is large enough to feature live music performances, and this afternoon, Leonard Lopate had a live jazz concert by The Uptown Big Band, led by yet another Marsalis brother, Trombonist Defaiyo Marsalis. They're composed of Southern musicians, mainly from New Orleans, and played a swinging, funk influenced set of Defaiyo's tunes, with good solos by most band members. It was a breath of fresh air compared to most of the jazz heard in NYC nowadays.

Wow, she really got jazzy and funky on that one! Nice guitar by John Tropea and great bass playing by Richard Davis.

Hey man, don't get me into one of those Organissimo Jimmy Smith fights! I heard they can get pretty violent, and I'm not gettin' any younger!

To tell you the truth, I didn't listen much to her later stuff. I just remembered that it didn't sound like her early stuff, which I loved, so I didn't pursue it. I remember when I did the gigs with her first producer, he didn't think too highly of her later stuff, and claimed, "I got all her good stuff!". I'll have to listen to her later stuff sometime.

Watered down? WTF? Sounds like classic JS and ON (using his hippest chords) playing a classic Elmer Bernstein movie theme to me. Sounds like something Lester Bangs would say...

Definitely read the biography! There's one hilarious exchange between her and her producer (HB) where he asks her if she's been cutting school to come to the studio sessions!! She sounded great on "Poverty Train", but the band (supposedly the Wrecking Crew!) had trouble following her, just like the NY studio musicians did on her first album. You can really hear it at the end, when they just keep holding that chord under her; they sound like they don't know what the hell to play (I've been there!). She needed her own band with a lot of rehearsal, because she had this habit of doing tons of tempo changes, and unless it's conducted or rehearsed a lot, I'd love to hear the full version of "Wedding Bell Blues", although it sounds like the band was playing it too slow.