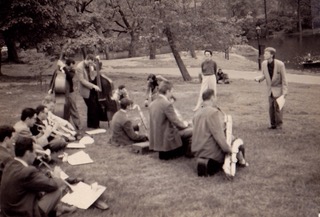 Content count

1,953

Joined

Last visited
Everything posted by sgcim
sgcim replied to sgcim's topic in Artists

Terry Gross played three interviews she did with Sondheim on Fresh Air this week The first one was a general interview about his entire career, done in 2010. Gross asked him how jazz influenced his music. Sondheim's reply was that he never listened to jazz; as a kid or even now. Gross was astounded, and asked him why. Sondheim said he only listened to music from movies and musicals, and the only jazz he would hear would be if it was part of a show or movie. He then said that he didn't like improvisation. he said he was trained by Milton Babbitt to work things out very precisely, and that was the opposite of improvisation. He was surprised that Babbitt liked jazz, because it was the opposite of how MB worked. To his credit, SS said that he thought Raksin's theme to The Bad and the Beautiful was the greatest movie theme ever written. The second interview Gross played was one that focused only on lyric writing. That's where he reamed even his teacher Hammerstein. His main complaint was that lyrics should advance the plot, and too many lyricists just played word games. Then he played recordings of examples of how he did this in his shows, and most of the recordings were done by mediocre singers who were better actors than they were singers. Surprisingly, he said Ethel Merman was a better singer(!) than she was an actor, so he tried to have her mostly sing in "Gypsy" rather than act. I found myself nauseated by most of the music from his shows, and yet "Cleo Sings Sondheim" is one of my favorite vocal albums. The reason for this is that all SS cared about were his shows. The fact that Jonathan Tunick wrote exquisite arrangements of SS' songs, and CL sand the schlitz out of them. I wonder what SS thought of that album. I wonder if he even listened to it... As far as using SS tunes as vehicles for jazz improvisation, they tried that on the album Color and Light: Jazz Sketches of SS, a collection of various artists' jazz interpretations of SS' tunes. I've done some of his tunes as jazz vehicles, and they work, if you choose the right songs.

They misspelled my buddy Aaron Sachs' last name (Sax!). Those three guys SW mentioned that played in his big band were under recognized, great players. None of the kids can play like Aaron, Johnny Amoroso, or Eddie Bert, and now they're gone. We still have their records, but nothing can replace the excitement of playing live with Aaron Sachs on the tenor. In that bag, only Getz was on that level.

Thanks for posting this interview TTK! It inspired me to email DA about a guitar transcription I made of one of his tunes. He got back to me, and said he wants to play with me sometime.

Man, I envy your parents. You don't work for people like Gordon Jenkins and ray Charles without being one of the best. For some people, the Ray Charles gig was a lifelong dream come true. A pianist I've mentioned before, used a Wurlitzer just like his hero, and was also a lifetime junkie like his hero. He had the gig for three or four years. They must have really been a riot together. He's on one of the live shows in Europe, along with that Detroit trumpet player Ray used.

I did a show where Johnny Mathis was the headliner, and I was playing for one of the other acts. All I remember is Johnny Mathis carried his own guitar player with him, and the guitar player was always barefoot. JM had great taste in guitarists. He once had Buddy Fite as his guitarist, until BF couldn't take the air travel anymore.

Yeah, there is the hope that you can play it and some beautiful chick like Jessica Walter with BPD will fall MADLY in love with you, stalk you, and kill people that stand in her way, until you have to blow her away with your Smith and Wesson before she hacks you up with a pair of scissors, but I've played it so many times on gigs, that I want to punch out the jerk that calls it on a gig as a ballad. It might be fun if it were done as a medium tempo, like Houston Person did with "The Very Thought of You", but if I have to hear another male singer say that he feels "as helpless a kitten up a tree", I'll puke mu guts out on the stand. It's just been overplayed to death.

The last days of the Bill Evans Trio. https://www.tamupress.com/book/9781574418446/times-remembered/

On the IMDB he gets credit for "Music by" and "Music Adaptations by"

The lack of reverb on Wes Montgomery's Riverside recordings was the only thing that stopped me from buying that boxed set.

Yeah, in the interview in the book, he said that "Touch of Evil was the score he was most proud of out of all his scores, definitely not light comedy or light suspense. He felt that Peter Gunn owed more to Rock and Roll than jazz.His time writing for the Tex Benecke version of the Glen Miller band got his big band writing chops together. He studied composition at Julliard, and studied privately with Krenek and Tedesco, so he was capable of writing in most styles.

AB used to work in 'the mountains' playing piano with this trumpet player I worked for. I asked him if he'd introduce me to him, but he wouldn't for some reason. The same guy also said Charles Fox was going to be at a gig we played, and then the jerk forgot to introduce me to him, when the gig came up! I just heard a Baxter score to an old horror film that knocked me out!

Yeah, there was a ton of crazy stuff going on in soundtrack LPs. You never knew what you were going to get until you saw the track listings. If the composer wanted to add some of his other tunes, he could do it for whatever reason. Then there were a number of 45s made from the score that could turn out to be hits, that were recorded by the composer, or someone like Herb Alpert, The Ventures, etc... There could be some great cues that were cut out by the director from the film, that appeared in full on the LPs. The composer could choose to use a completely different set of musicians than the ones that played on the original soundtrack. And then there were rejected scores that no one ever heard, as well as films and TV shows whose music was never heard again-for all time, because they didn't make a soundtrack LP out of it. I just read in the book that "Chinatown" had a complete score written by a different composer, that Polansky decided not to use. That left Jerry Goldsmith two weeks to write the score that was used for the film. JG didn't think the film needed a jazz score, and the only reason it was included in the book was because the trumpet player (Uan Rasey) decided to interpret the theme using a bluesy sound, which Goldsmith said was "interesting".

RIP, I liked him in Compulsion and Rapture.

Nice stuff! There's so much Mancini mentioned in the two volumes of the "Action Jazz" book,that I've made notes on every page of both volumes.Everything he wrote for TV and film is covered, and that's just in the crime and spy genres. Some Mancini we've played on gigs are Dreamsville Theme from Two For The Road Mr.Lucky There's almost no end to the jazz-based music written for film and TV, and the author goes over the ENTIRE OUTPUT of composers like Mancini and his fellow writers, like Don Ellis, Johnny Mandel, Lalo Schifrin, J'J Johnson, Quincy Jones, David Shire, Charles Bernstein, 'Johnny' Williams, Jerry Goldsmith, Oliver Nelson and on and on and on..... It startled me the other day when I passed out the parts that i had written to my arr. of a great tune by John Williams, and not one of them ever heard of it! They're limited to the same songs from the Real Books, over and over.

sgcim replied to Hardbopjazz's topic in Artists

Happy Birthday, Houston! I'm still grateful to you and Bill Mays for saving the Phil Woods Memorial Concert from becoming a non-swinging bore.

A John Barry cue from Goldfinger- of course!

I think this is the perfect time to explain your screen name- Teasing The Korean. It's one of the few mysteries left in the world.

I saw this in a used record store today, but I wasn't sure I wanted to pay what they wanted for it. Does anyone have it? Is it worth getting? TIA

sgcim replied to Hardbopjazz's topic in Artists

Oh God, he seemed indestructible. RIP, to one of the greats of all time.

RIP, to a great organist. Hope my source is wrong.

He did spend time in a mental institution. A sax player I knew said they wanted him to give a performance for his fellow patients. They introduced him to the audience, telling them, "Mr. Monk is a famous jazz musician, and would like to play a concert for you today". Monk just sat up there, staring at them for a few minutes, then slammed the piano closed and yelled at them, "My dick is bigger than yours!" That was the end of the concert. I never found that in any of the books written about him. Probably circulated among musicians, like Bill Crow's stories.

sgcim replied to Teasing the Korean's topic in Artists

I never met him, but i read his huge autobiography, "Sideman". Some friends of mine studied with him, and they'd come out of every lesson shell-shocked from the way he'd yell at them for not practicing, or not getting the lesson right. They'd drive away from his studio in silence. Another guy, who was more experienced than the above mentioned two guys, said that he reached a point where BB had taught him everything he knew, and BB would keep suggesting that he call Lennie Tristano, and start lessons with him.My friend told him he didn't want to study with LT, but BB wouldn't stop pushing Lennie on him. Finally, BB gave up and asked him who he wanted to study with, and my friend named another guitar player, and BB gave him the guy's number, and that was the last he saw of him. I know BB played guitar in the Dixieland band that was playing at the party scene in "The Hustler", but the credits of the soundtrack album list 'Joseph' Barry Galbraith as the guitar player on the rest of the score (non-diagetic music). I got the second volume of that "Crime and Spy Jazz on Screen" by Derrick Bang, and this one deals with music "Since 1971". Same format as the first, and the beginning deals with things Quincy Jones wrote for in the 70s. I'll post more about it in the Books About Jazz section. I never heard of that Jack Marshall album, but I'll look around for it. It sounds very interesting. Thanks for hipping me to it!

I. Mr. sgcim was recognized for the above project, which will bring a jazz guitar performance to the Queens Theatre in Flushing Meadow Corona Park Queens at 2:30pm on October 16, 2021. Admission is free, but you have to RSVP a ticket to the 2:30pm performance.

Part of a Kenyon Hopkins interview is quoted in his much praised score for "The Strange One", which as of this writing has not been digitized yet.He talks about the climax of the film where he says he, "uses a 12-tone technique, which I don't ordinarily use in a theatrical film." "The commercial melodies and the juke boxes and the 12-tone chase which comes at the end of the picture are all related. The theme used in the final chase is the tune called "The Strange One"12-tone form. If you listen to the album a couple of times, you can see the relationship of the whole thing". The soundtrack album allowed Hopkins to expand his cues into full-length compositions. Hopkins talks about editing out things that are just related to the action in the film. He says, "Mostly it's a matter of blending cues.We have long tails on cues in movies, so they can be mixed out. Then we just cut off those tails and put the cues next to each other, and- generally speaking- you've got development." The author goes over a number of Hopkins' scores, including The Hustler, The Yellow Canary, Mister Buddwing, and A Lovely Way to Die.